NEW YORK Wed Sep 24, 2014 7:00pm EDT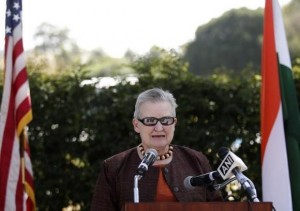 (Reuters) – The State Department on Wednesday named Nancy Powell, the former U.S. ambassador to India, to coordinate Washington's response to the Ebola outbreak in West Africa.
The epidemic has already killed more than 2,000 people – more than the combined total of all previous Ebola outbreaks – more of them in Guinea, Liberia and Sierra Leone, where it has overwhelmed fragile health services.
U.S. President Barack Obama has declared the Ebola outbreak a national security priority and said he would send 3,000 U.S. troops to the affected region.
"In this role, Ambassador Powell will lead the State Department's outreach to international partners, including foreign governments, to ensure a speedy and truly global response to this crisis," State Department spokeswoman Jen Psaki said in a statement.
(Reporting by Lesley Wroughton. Editing by Andre Grenon)