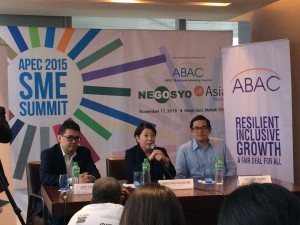 By Caesar Vallejos
Eagle News online correspondent
(Eagle News) — For the first time, the Asia Pacific Economic Council (APEC) will focus on micro-, small-, and medium-sized sized enterprises (MSMEs) through the APEC SME Summit 2015 on November 17 that highlights innovation as the enabler in transforming entrepreneurs as competitive market players in the global marketplace.  It will be held at the Green Sun in Makati City.
"Innovation is a change of mindset that is needed to help MSMEs re-think and re-createthe way they do business and present their products and services.  A lot of megatrends including urbanization and disaster management are happening around the world that creates new opportunities and demand.  These present a lot of potential for a new breed of entrepreneurs," Doris Magsaysay-Ho, Chairman of the APEC Business Advisory Council (ABAC) said.  "The APEC SME Summit is expected to present the roadmap of the innovation agenda for the Philippines," she stressed.
At the business sector, Ho mentioned that the services coalition comprised of sectoral groups including construction, healthcare, maritime, creative and BPO are encouraged to produce their roadmaps.  For the innovation roadmap to transcend to the next administration, Ho mentioned that it will be presented to all the presidential candidates.  "This is what we think that the future will need.  We are creating a new Philippines in a great platform built with integrity.  We need to build trust.  The whole world is now watching us," Ho stressed.
MSMEs account for 97% of enterprises and up to 90% of employment in APEC economies.  ABAC urges economic leaders to allow a seamless trade of products across borders in APEC economies.
Senator Bam Aquino who sponsored several bills on SMEs and entrepreneurship in Congress said that the APEC SME Summit represents a turning point for the SME industry, comprising 99% of the business in the Philippines, in the creation of more jobs that also leads to higher incomes.
"The large corporations only comprise one percent of the business so we need to look at the value chain for social entrepreneurship and how they can fit into a larger global value chain,"Joey Concepcion, Go Negosyo Founder & RFM President and CEO said.
The Summit Conference will present innovative ideas from founders and leaders of innovation from various countries.  These includeAeromobil Co-founder and CEO JurajVaculik whose company is developing prototype roadable aircraft, a vehicle that can be converted from an automobile to an aircraft;  InnosightManaging Partner Scott Anthony whose focus is on strategic transformation, disruptive change, and business model innovation; Asia Society President JosetteSheeran; Uber Technologies, Inc. Senior Advisor David Plouffe; Care.com Founder and CEO Shiela Marcelo; Silicon Valley visionary and Tallwood Venture Capital Managing Director DiosdadoBanatao; Barefoot College Founder Bunker Roy; Thumbtack Co-Founder and President Jonathan Swanson; Bhumipatra Architecture Principal AlokShetty; ABRA Founder and CEO Bill Barhydt; Teach for All Co-Founder and CEO Wendy Kopp; and FeDex Asia Pacific President and CEO Karen Reddington.
Around 30 world-class, cutting-edge business solutions and other groundbreaking technological advances from across the APEC region will be showcased.  This covers all fields and sectors from agriculture, creatives, manufacturing, services, finance, science and technology, gaming and others.
e-Commerce is one of ABAC's concrete initiatives to help MSMEs access better markets and opportunities.  This came about after ABAC and the USC Marshall School of Business found out that MSMEs face complex customs requirements, high compliance costs, high logistics costs, lack of e-commerce infrastructure and e-payment facilities.
The APEC SME Summit is organized by ABAC in partnership with Asia Society Philippines and the Philippine Center for Entrepreneurship anchored on the theme of "Innovation and Big Ideas:  Pushing Boundaries".  It is part of the week-long APEC events that concludes with the two-day meeting of APEC Economic Leaders in Manila.
Eagle Broadcasting Corporation is official broadcast partner of the APEC SME Summit 2015.