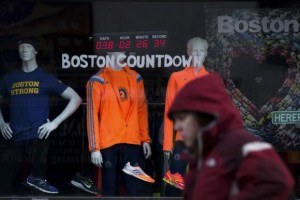 (Reuters) – Training for the Boston Marathon may be grueling, but finding a place to stay during the event is also proving a challenge for participants and supporters this year.
Hotels across Boston are already packed for the April 21 event due to a groundswell of interest after last year's bomb attack, and those who left lodging arrangements to the last minute are scrambling for rooms as far away as Rhode Island.
"I'm ready to roll, I'm in shape, I just don't know where I'm going to sleep," said Dan Miner, a 29-year-old salesman from St. Louis, who placed a wanted ad for a room in the city. He said the closest, affordable room he could find for the race was in Providence, Rhode Island's capital 40 miles away.
Some 36,000 runners are expected to toe the starting line of the world-renowned race this year, 9,000 more than last year, to form the second-largest field in the race's 117-year history.
Marathon organizers said the enhanced participation would help accommodate about 5,624 athletes who were still on the course last year when two pressure-cooker bombs exploded and halted the race. The bombing killed three people and injured more than 260 in the worst attack in the United States since September 11, 2001.
"We've been full since November," said John Maibach, general manager of the Loews Boston Hotel in the upscale Back Bay neighborhood. He said his last few rooms went for more than $500 a night, up from a normal rate of about $295.
"This is going to be a pretty popular three-day weekend in Boston, with a lot more support for the marathon than we normally get," he said.
"I only wonder why we didn't charge more," he added jokingly.
Boston area hotels have booked 18 percent more rooms at nightly rates that are 21 percent higher during this year's Boston Marathon weekend, compared to a year ago, according to a survey of 160 hotels conducted by travel research firm TravelClick.
Indeed, try booking a hotel room for the marathon weekend online and nothing will show up within Boston city limits. Rooms around Boston's Logan airport are averaging $450 per night, while hotels around 20 miles out in the suburbs run at about
$200.
The crunch and high prices have triggered a private industry of Massachusetts homeowners and apartment dwellers willing to rent rooms to Boston runners and spectators.
In the Boston suburb of Newton, an apartment that can sleep eight people will cost $1,290 to lease from April 19-21, according to an advertisement on craigslist.com.
Further afield, rates are a little more affordable. A room in Wendy Lawton's 1850's-era house by the sea in Rockport, 40 miles north of Boston, will go for $100 a night.
"I thought that it might be a possibility that people would be willing to stay here, an hour out of town, particularly since we're right on the commuter rail line," she said.
Investigators said the homemade bombs that exploded during last year's race were placed by ethnic Chechen brothers, Tamerlan and Dzhokhar Tsarnaev. Tamerlan was killed following a shootout with police days after the bombing, and Dzhokhar is in custody awaiting trial.
More than 3,500 officers will be stationed along the 26.2 mile course this year to boost security for the race's increased number of runners, as well as thousands of spectators and volunteers.