Tue Feb 11, 2014 2:40pm EST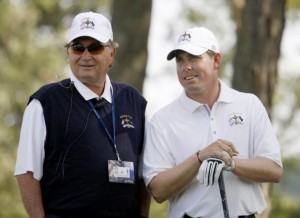 (Reuters) – Veteran Raymond Floyd will be a vice-captain on this year's American Ryder Cup team, U.S. captain Tom Watson said on Tuesday.
Floyd, 71, won four majors, including two U.S. PGA Championships, during a decorated career.
Eight-times major winner Watson had previously announced that twice U.S. Open champion Andy North would be a vice-captain.
The Ryder Cup will be played at Gleneagles, Scotland from September 26-28.
Europe are defending champions in the biennial event, which the U.S. have not won in Europe since 1993, when Watson previously was captain. Watson selected Floyd as a player back then.
"What Raymond brings is experience and respect of the players," Watson said in making the announcement at Riviera Country Club, site of this week's Northern Trust Open.
"When these players look at Raymond, they know he's been there, they know he's been successful.
"You look at Raymond's eyes, you never saw his eyes waver… His eyes had a focus you like to see and the way he played the game, every shot counted, and that's the type of guy I wanted taking care of my back.
Floyd played in eight Ryder Cup teams, compiling a 12-16-3 record, and he captained the 1989 side who tied with Europe.
"I'm flattered obviously and it's going to be a thrill for me to be back," Floyd said via telephone.
Floyd said he had never met several likely players on the team, but he did not believe that was a problem.
"Our responsibilities are to see that (the players) are comfortable (and) if there are any questions they have to be comfortable coming to us," he said.
Floyd was an assistant on Paul Azinger's winning American team in 2008.
There is no limit on how many assistants a captain has. Davis Love had four when he captained the American team two years ago and Watson said he might add another one.
Either way, Watson does not think any inspirational speeches will be necessary, considering the U.S. surrendered a four-point point lead on the final day to lose two years ago.
"The main motivation is the fact we lost the last one. We had a big lead and we lost it. If that's not enough motivation for the players of the 2014 Ryder Cup team, we're spinning our wheels," he said.
"What a crushing defeat. What a pit that left in my stomach for several days afterwards."
Watson refuted suggestions that he and his assistants will be too old to relate to the players.
"These players know that Raymond, Andy and myself have been there," he said. "We know what Ryder Cup pressure is about.
"The age difference is like a professor. You go to learn from a professor. You know he has the experience and the knowledge and that's what we bring as captain and vice-captains to the Ryder Cup."
The top nine players on a points list after the PGA Championship in August will automatically make the U.S. team and will later choose three others.
Jimmy Walker, who has won three times this season, heads the current U.S. standings from Dustin Johnson and Phil Mickelson.
Watson said he would lead a group of American players to Gleneagles after the British Open in July.
(Reporting By Andrew Both in Cary, North Carolina, Editing by Ed Osmond)