by Elias HUUHTANEN
Agence France-Presse

IMATRA, Finland (AFP) — When Russia invaded Ukraine, a new iron curtain severed once-close ties between Moscow and Helsinki — something Ari Joronen can see with his own eyes from his farm in eastern Finland.
"The trees have been cleared because of the new border fence," he says, overlooking part of his property in the town of Imatra that adjoins the Russian border, a few hundred meters from his house.
Finland — which holds legislative elections on Sunday — unveiled plans in November to fence off 200 kilometers of its 1,300-kilometre (800-mile) border with Russia.
"The war in Ukraine has been a turning point. Finns have had to rethink their relationship with Russia," said Johanna Vuorelma, a researcher at University of Helsinki.
So close to the border he can hear a firing range on the other side, Joronen's property is currently separated from Russia by just light wooden livestock fences, like the rest of the Finnish-Russian border.
But by summer, Joronen will see a three-meter (10-foot) high steel fence topped with barbed wire erected on his land.
The whole fence is due to be completed by 2026.
"It is good for the future. At some point, it will probably be needed," Joronen says.
The project is just part of Finland's massive turnaround in its relations with its eastern neighbor.
Finland ceded around 10 percent of its territory to the Soviet Union during World War II, but even at the height of the Cold War it never erected a wall — though it did submit to a period of forced neutrality under Moscow's watchful eye called "Finlandisation".
Following the Soviet Union's collapse in 1991, Finland remained militarily non-aligned and had high hopes for a new era with its powerful neighbor.
Helsinki hoped to become a hub for trade and diplomacy between the West and Russia.
More than a century after its independence from Russia and three decades after joining the EU, the country of 5.5 million people is now forging a new foreign policy identity — cementing its ties with the West as it takes its final steps toward NATO membership.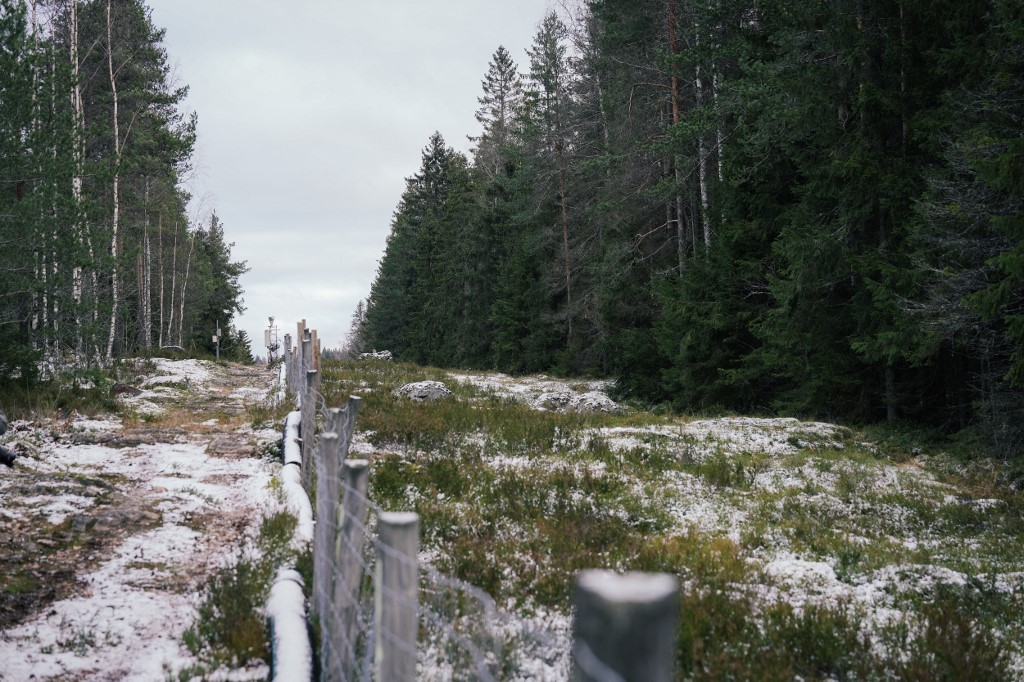 – Historical trauma –
On the military island of Santahamina in Helsinki, young reservists fill their assault rifle magazines with their bare hands in temperatures dipping to minus 15 degrees Celsius (5 degrees Fahrenheit), as the white snow reflects the blinding sunlight.
In the most visible sign of this new era, Finland ended its decades-long policy of military non-alliance when it applied to join NATO in May 2022.
Reservist Aleksi Heino, an engineering student, says the war in Ukraine brings "a sense of reality" to his training.
Colonel Vesa Laitonen, who leads the exercise, says motivation among conscripts and reservists is at a record high "because of the situation in Ukraine."
A grand duchy since 1809, Finland declared independence from Russia in 1917 — only to find itself repelling a Soviet invasion in 1939 in what is called the Winter War.
Finns now are keen to defend their country.
"That legacy comes from decades ago, perhaps from the spirit of the Winter War", Laitonen suggests.
Its violent history with its neighbor involved a lot of "painful experiences and trauma", researcher Vuorelma said.
The new government voted in at the weekend will have to forge a new path.
– 'Special relationship' –
President Sauli Niinisto once prided himself on his close ties with Russian President Vladimir Putin, but now he and Prime Minister Sanna Marin are among Europe's most vocal opponents of Moscow.
In the past, Helsinki pursued a "special relationship with Russia" and a policy to "maintain good relations, both economically and politically," Vuorelma explained.
The flip side of this "economy first" thinking was to ignore "negative developments in Russia", she said, with foreign and security policy issues overshadowed by economic arguments.
It was thought that "good economic relations with Russia are in Finland's interests, but at the same time they tie Russia to democratic development", Vuorelma added.
But when Finns discovered this didn't work, they were left disappointed and betrayed, she said.
Finnish voters rank national security and defense as important election topics.
The brunt of the new iron curtain is borne by Finns living in border towns like Imatra, with close ties to Russia, and which are dependent on the country for tourism and trade.
Like others in the region, Joronen used to visit Russia regularly for work and groceries — but now the visits have stopped.
"I haven't been there as long as the war in Ukraine has been going on," he says.
© Agence France-Presse