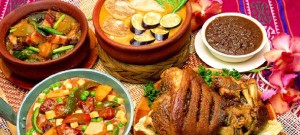 ASIDE from the country's well-known diverse natural and man-made attractions, the Philippine food remain one of the country's best -kept secret which is relatively unknown in many parts of the world.
As if to corroborate the saying "the surest way to a man's heart is through his stomach," the Department of Tourism under the stewardship of Secretary Joseph Ace Durano recently launched Culinary Tourism dubbed as Kulinarya Filipina as part of the Cultural Tourism Program. This program hopes to introduce the Philippine flavors to domestic and international scene and aims to promote the country as a culinary destination.
The Philippine cuisines feature a spicy blend of various cultures – a legacy left by past colonizers. The mixture of Malay, Chinese and Spanish influences have complemented the Filipino's way of traditional cooking style, which resulted in a uniquely Filipino gastronomic treasure. Popular dishes adopted from Chinese are "lumpiang shanghai" and "pancit". While several traditional dishes still retain their Spanish names such as "mechado," "menudo," and "pochero."
There are only few destinations in the country that are well- known for its food. For instance, Bicol, Pampanga, Bulacan are famous for its sweets, while, Negros and Iloilo, Cebu are known for lechon and otap. On the other hand, Antipolo is popularly known for its suman, kasoy and mangga and Ilocos for its longganisa, and pinakbet.
Each region has its own treasure to boast, such as the freshest fruits and vegetables grown in nearby Trinidad Valley in the Mountain Province. Pampanga, is known for its sweet meat, such as "tocino," Batangas is famous for its tender juicy meat, "bulalo" and robust Batangas coffee beans. Bicol's most popular cuisine "laing" and "bicol express" is known for the use of coconut milk and lots of spices. Cebu and Palawan serve fresh seafoods, seaweed salad; and sweetest mangoes. Iloilo is popular for its "pancit molo" and "la paz batchoy." Davao is famous for its "inihaw na panga" and exotic fruits like "durian," "pomelo, " mangosteen" and "rambutan" while, Zamboanga serves some of the most delicious prawns, crabs, lobsters and "curacha."
One of the recently developed KULINARYA tour packages focuses on the Province of Quezon which is already a popular tourism destination.
Quezon Province is not only well-known for its harvest festivals during May but also for its culinary specialties such as longganizang Lucban (native sausage), Pancit Habhab (native noodles eaten directly from a banana leaf), the kiping (both a delicacy and ornament during the Pahiyas festival) and Broas (local ladyfingers). Also worth watching is the Pandanggo-Awit, a traditional practice to welcome guests that features the lambanog- a local vodka-like drink which is one of the province's most popular products.
Other itineraries being developed are the Kulinarya Bicol Tour which offers visits to the provinces of Albay and Sorsogon. The tour also allows the tourists to taste the region's specialties such as Pinangat (native foie gras), Bicol Express ( a native dish cooked with lots of hot chili peppers) and desserts made with pili nut.
Other modules being developed are Kulinarya Batangas which will have two modules 1) Lipa- to feature lomi (native noodles soup) and sinaing na isda (steamed fish) with an optional visit to The Spa at San Benito & 2) Taal which will feature tawilis and the various sweets such as panutsa (caramel peanuts) and the bukayo (sweetened coconut).
Likewise, the Department also explores the possibility of launching and marketing culinary tours to other well-known culinary centers of the country such as Manila, the Ilocos Region, Pampanga, Bulacan, Iloilo, Negros and Davao.
These projects are being undertaken by the Department of Tourism in coordination with the Philippine Tour Operators' Association (PHILTOA), Phillippine Tourism Agencies Association (PTAA), the Local Government Units, and various local tour consolidators. (http://www.tourism.gov.ph/)