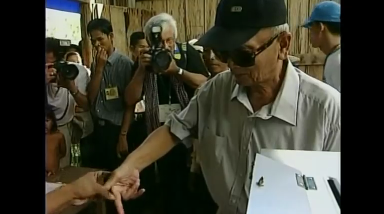 PAILIN, Cambodia (Reuters) — Nuon Chea, Khmer Rouge Chief Pol Pot's right-hand man, often known as "Brother Number Two," is set to make his closing statement on Friday (June 23) at the United Nations-backed war crimes tribunal in Cambodia in the second trial against him for charges of crimes against humanity, genocide, and grave breaches of the Geneva Conventions.
About 1.8 million people were killed during the 1975-1979 rule of Pol Pot's ultra-communist Khmer Rouge, from torture, execution, disease, and starvation after harvests failed.
Most of the victims of the Khmer Rouge died of starvation, torture, exhaustion or disease in labor camps or were bludgeoned to death during mass executions. Pol Pot, "Brother Number One," died in 1998.
Nuon Chea, now 90, was appointed Deputy Secretary of the Communist Party of Kampuchea, the Khmer Rouge's name for Cambodia, in 1960, a position that put him in charge of the party and state security. He is believed to be the one most responsible for the deaths of the regime's victims.
In August, 2014, Nuon Chea and former President Khieu Samphan were sentenced to life in jail by the same tribunal in the first trial for crimes against humanity, murder, persecution on political grounds and other inhumane acts over the forced evacuation of the capital, Phnom Penh, after the fall of the city in 1975.
The appeals court upheld their sentences in November last year after the defendants appealed.
The second trial, which commenced on October 17, 2014, was held to hear additional charges including genocide against the Cham ethnic minority and the Vietnamese, forced marriages and rape, internal purges, among others.
The tribunal, which officially started in 2006 that cost hundreds of millions of dollars, has been plagued by infighting, political interference, resignations and funding shortages since it was set up.