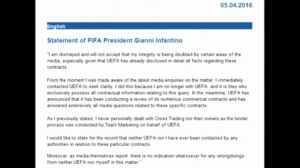 ZURICH, SWITZERLAND (Reuters) – FIFA President Gianni Infantino released a statement on Tuesday (April 5) denying involvement with companies implicated in the Panama leaks shortly after an article by Britain's Guardian newspaper said the leaks showed contracts co-signed by Infantino in his role as director of legal services at UEFA, with an Argentine firm that bought TV rights for European continental competitions.
"As I previously stated, I never personally dealt with Cross Trading nor their owners as the tender process was conducted by Team Marketing on behalf of UEFA," the statement read.
The "Panama Papers" have cast light on the financial arrangements of high profile politicians and public figures and the companies and financial institutions they use for such activities.
Iceland's Prime Minister Sigmundur David Gunnlaugsson resigned on Tuesday, becoming the first casualty of leaked documents from a Panamanian law firm which have shone a spotlight on the offshore wealth of politicians and public figures worldwide.
The more than 11.5 million documents, leaked from the Panamanian law firm Mossack Fonseca, have caused public outrage over how the world's rich and powerful are able to stash their wealth and avoid taxes while many people suffer austerity and hardship.