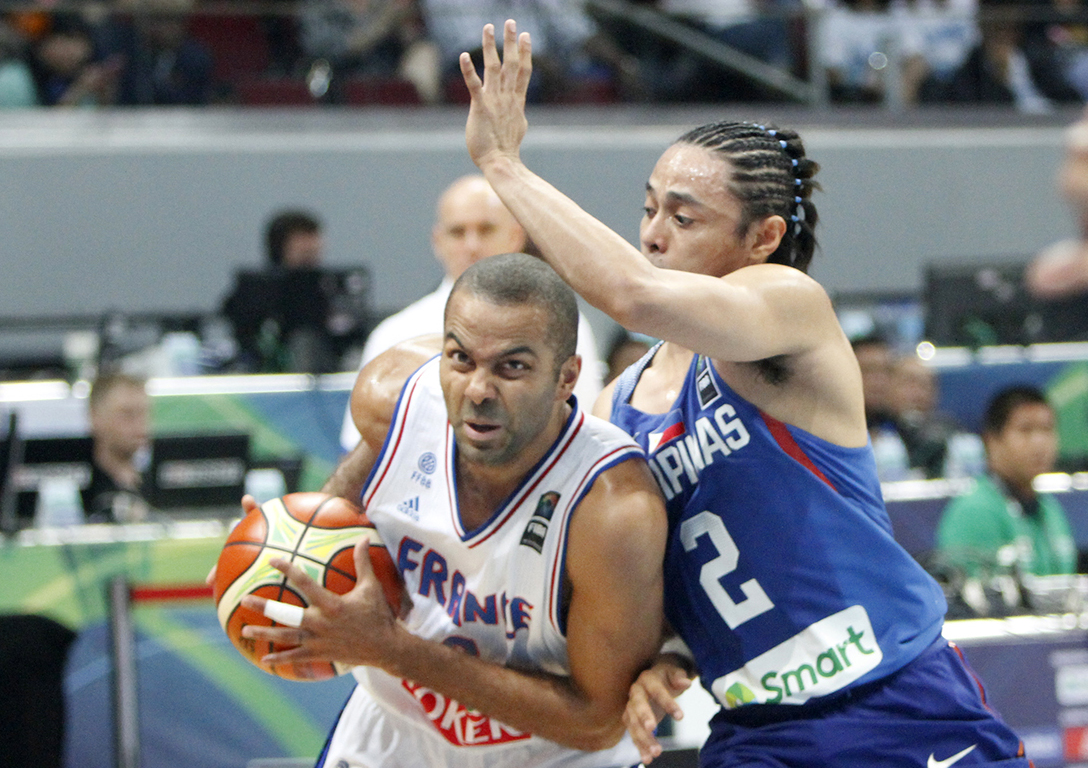 Pasay City, Philippines – The day of reckoning is finally here for Gilas Pilipinas as they finally face France in the FIBA Olympic Qualifiers in Manila at the Mall of Asia Arena.
Playing inside a sold out arena, Gilas Pilipinas came out scorching as Andray Blatche came up big in the first quarter with 14 points to electrify the crowd as they lead France, 30-22.
The same intensity was brought by Gilas Pilipinas in the second quarter with their young stalwarts of Terrence Romeo, Bobby Ray Parks, Troy Rosario and June Mar Fajardo leading the attack. Things suddenly changed when Tony Parker hit the seven of the last nine points for France to push for a slim 45-43 lead heading to the second half.
France's Nando De Colo and Parker carried the momentum in the third quarter by scoring 11 and 9 points apiece to help France go up ahead Gilas Pilipinas by as large as thirteen points and heading to the fourth quarter with an 11-point lead at 77-66.
In a valiant effort to keep the game close, Jayson William (Castro) and Romeo kept the game within striking distance by trimming down the lead to four points entering the last three minutes of gameplay at 85-81.
Having enough, Boris Diaw and Kim Tillie scored the next six points for France while a steal by Tony Parker allowed De Colo to put out the game away from reach with 93-81 with a minute left to play.
"They made it tough on us and we got to get in deep to get the win," Parker said during the press conference after praising Gilas Pilipinas.
Parker and De Colo combined for 48 of the 98 points and with the win; France is now a victory away to seal their ticket to the semi-finals with the top seed in their bracket and will face New Zealand two nights from now.
On a losing effort, Gilas Pilipinas were led by Andray Blatche who had 21 points and 8 rebounds to go along with 3 steals. Terrence Romeo added 19 while Jason Castro had 14 points after duelling with the French combo of Parker and De Colo.
"It's a highly competitive game," recalls Philippines coach Tab Baldwin. "It was a great performance by Gilas and if we could play like this a lot more, we can start turning good results in games like this."
With the loss to France, Gilas Pilipinas will now have to win their game against New Zealand the next night to give them a chance to clinch a semi-finals berth.
France (93) – De Colo 27, Parker 21, Tillie 10, Lauvergne 10, Diaw 9, Gelabale 8, Diot 4, Heurtel 2, Kahudi 2, Pietrus 0, Moerman 0.
Philippines (84)– Blatche 21, Romeo 19, Castro 14, Chan 9, Rosario 6, Norwood 4, De Ocampo 3, Reyes 3, Parks 3, Pingris 2, Fajardo 0.
Quarterscores: 22-30; 45-43; 77-66; 93-84
Photo Credit : PBA Images