Stresses importance of united front to fight int'l terrorism based on Russia's experience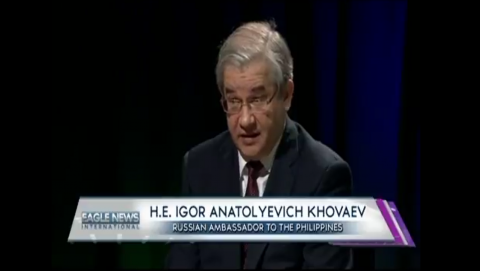 QUEZON CITY, Philippines (Eagle News) — Russian ambassador to the Philippines H. E. Igor Khovaev said Russia "fully supports" the Philippine government's fight against terrorism in Mindanao, saying the terrorist attack in Marawi City was "an attack on all of us."
"I would like first to emphasize that we fully support a fair, legitimate struggle for the Philippine nation against that terrorist attack," Ambassador Khovaev said in an interview with NET 25-Eagle News Service at one of the studios of Eagle Broadcasting Corporation in  Quezon City.
"Because of the threat, His Excellency, President Duterte had to cut his visit to Moscow short.  That decision was fully understood and supported by our President Vladimir Putin," he stressed, referring to President Duterte's May 22 to 29 official visit to Russia that had to be cut short a day after his arrival in Moscow because of the terrorist attack on May 23 in Marawi City.
Ambassador Khovaev said there was simply no need for the Philippine side to further explain to the Russian side what the threat of terrorism meant.
"Our country suffered a lot from this threat," the Russian ambassador stressed in the exclusive interview at the EBC studio on Wednesday, June 21.
And based on Russia's experience in fighting terrorism, he said it was important to have a united front against international terrorism since any form of disunity will be used by the terrorists to their advantage.
"On the basis of our  own experience, we know very well that the struggle against terrorism must be consistent and permanent — no let up. So a united front must be created against international terrorism. Any disunity is a kind of assistance to terrorist forces," Ambassador Khovaev said.
"As a foreign diplomat I'm not in any position to give you advice on what can and should be done in order to overcome the ongoing crisis in Marawi. So I'm just talking just about our own experience, because our country was a target of terrorist attacks," he stressed.
"So first of all, a society must be united in the struggle, and the government should be fully supported by all citizens because any terrorist attack is not an attack on just the government, it's an attack on the whole society," he explained basing it from the Russians' experience of terrorist attacks.
Russia ready to provide arms, training, intelligence support 
Ambassador Khovaev said Russia was willing to help and consider any request for assistance of the Philippines — be it in the form of military weapons, staff training or special intelligence or data — that will help the country fight the Islamist terror threat, including the one in Marawi City.
"As for possible assistance of Russia, so we are ready to consider any request for support from our Philippine partners. So now we have an agreement on the cooperation in the defense field, so we can provide sophisticated arms and weapons, especially military equipment. We are ready to share our very rich and I think quite efficient experience of fighting terrorism," he said.
"So we are ready to provide assistance, staff training, we are ready to share our special technology and methods. We are also ready to share special information, special data with our Philippine partners. So I'm saying again we'll consider any request from our Filipino partners, simply because the struggle against terrorism is our common struggle," the Russian ambassador told Eagle News Service-NET 25.
Terrorist attack on Marawi, "an attack on all of us"
Ambassador Khovaev explained why his government felt so strongly against the terrorist attack in Marawi City, even if it happened far away from Russia.
"We Russians, we perceive the terrorist attack on Marawi as an attack on all of us, on our country as well, because terrorism has no borders, no frontiers. Terrorism is truly international and the terrorist forces are truly united," he said.
"So only a united front of all civilized nations of all societies will be able to efficiently cope, will be able to eliminate this threat," he stressed during the interview.
"And of course, during the struggle against terrorism, of course, the political opposition must be very responsible according to our own experience. it's not a period for political games," the ambassador said again recalling the lessons they learned in Russia.
"The whole society, I'm saying, must be united like one strong fist."
Hope for Marawi crisis to end soon
"That is an indispensable precondition for a successful struggle against terrorism, and we sincerely wish your government, His Excellency President Duterte, your Armed Forces and national police, we sincerely wish for all Filipinos to overcome this crisis as soon as possible," Ambassador Khovaev said.
The ambassador also repeated how Russia is extending its sincerest condolences to the families who lost loved because of the Marawi crisis.
"And I would like to take this opportunity once again convey our sincerest condolences to all Philippine familues who lost their loved ones in the struggle against terrorism in Marawi. So I sincerely wish you to be strong, consistent and persistent. We support you," he said.
(Note:  Full interview to be shown on NET 25, Eagle News Service)