By Khaled Yacoub Oweis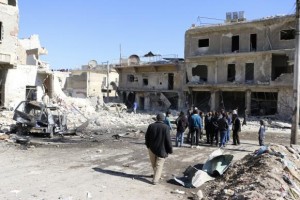 GENEVA Wed Feb 12, 2014 12:51pm EST
(Reuters) – The Syrian opposition called on Wednesday for a transitional governing body to oversee a U.N.-monitored ceasefire across Syria and expel foreign fighters, in a paper that avoided any mention of President Bashar al-Assad.
The confidential paper, seen by Reuters, lays out a vision of post-conflict Syria with all ethnic groups participating in a transition process aimed at restoring peace and stability.
Opposition and diplomatic sources said it deliberately does not refer to Assad, in line with a text agreed by world powers in June 2012 which calls for a transitional body with full executive authority, including over the security apparatus and the army, but which leaves the Syrian ruler's fate open.
"I think that the opposition has come to the obvious conclusion that the best way to deal with Assad is to avoid mentioning him," one Middle Eastern diplomat said.
The memorandum was presented to mediator Lakhdar Brahimi and a Syrian government delegation at a joint session at talks in Geneva aimed at halting three years of bloodshed that has killed more than 130,000 people and driven millions from their homes.
The transitional authority will be "the only legitimate body that represents the sovereignty and independence of the Syrian state and is the only one that represents the Syrian state internationally", the paper said.
Asked why the document did not go into the fate of Assad, the opposition's chief negotiator, Hadi al-Bahra, told Reuters:
"We can no longer talk about one person as the sole embodiment of Syria. We deliberately presented a legal paper. Anyone who reads it will realize that a political transition will be the foundation for a new democratic future."
The Syrian government delegation said on Wednesday that negotiations must focus first on fighting terrorism and rejected parallel track talks on the opposition's priority of a transitional government as a "fruitless" idea.
Senior U.S. and Russian officials, backing opposing sides, are to meet Brahimi on Thursday to bolster support for his efforts to keep the faltering talks on track.
"Once again, the opposition has shown a seriousness of purpose in their approach to these talks. They continue to outline their vision for the future of Syria and we commend them for that," a
U.S. State Department official in Geneva said.
"Their vision is one which respects the freedom and dignity of all Syrians. They have shown that they are willing to engage constructively for the sake of the Syrian people. We have seen no such engagement from the (Assad) regime."
The opposition document says the transitional body would "prepare and oversee a total ceasefire by taking immediate measures to stop military violence, protect civilians and stabilize the country in the presence of U.N. observers."
It urges all parties to cooperate in stopping the violence, withdrawing all troops and working to decommission weapons of armed groups and demobilizing their members or integrating them into the army or civilian public sectors.
The transitional authority will seek to halt violence by all armed groups on both sides, including those which "follow political, religious or sectarian ideology", it said, referring to Sunni and Shi'ite Muslim militants fighting in Syria.
The body would seek to "guarantee the protection and participation" of all Syrian groups, including Arabs, Kurds, Turkmen, Syriacs, Assyrians and others, in the transition.
The Syrian government delegation did not reply directly to the proposal, opposition spokesman Louay Safi said.
"At this point we have not heard any response…I would like to hear some positive response," he added.
Syrian Deputy Foreign Minister Faisal Mekdad indicated later that Damascus was willing to discuss the opposition proposal to evict foreign fighters – a rare sign of common ground.
Asked about the idea, he told Reuters: "We are not closed to discussing any issue. But we have to discuss them one by one."
Mekdad, an influential figure said by diplomats to be closely linked to the security apparatus, told reporters the peace talks must follow the order of the 2012 Geneva communique agreed by world powers, which called for a halt to violence and formation of a transitional governing body by mutual consent.
"It is necessary to stick with the structure of the document. Completing the first article is necessary to move on to the next articles," he said. "Any estrangement from this order is a recipe to kill Geneva conference."
(Additional reporting by Oliver Holmes and Yara Abi Nader in Geneva and Erika Solomon in Beirut; Writing by Stephanie Nebehay; Editing by Alistair Lyon)