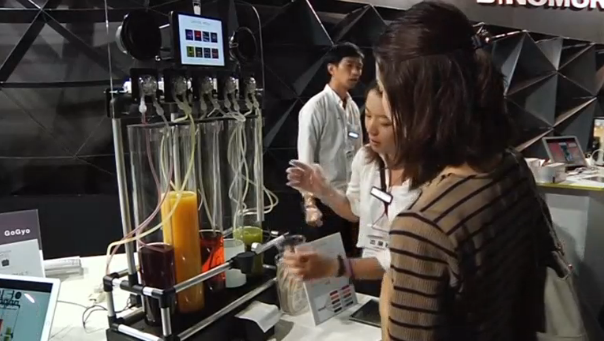 TOKYO, Japan (Reuters) — Curious visitors to a Tokyo technology expo queued to experience a new product that lets music fans "taste" the tunes they're listening to.
Japanese firm Nomura's open innovation lab NOMLAB displayed "Squeeze Music", its jukebox-inspired juice maker that blends a glass of juice according to the mood of the tune it's playing.
Akinori Goto, one of the developers, said software inside the jukebox analyses a waveform of the selected tune into five feelings – happy, exciting, romantic, sentimental, and sad – and coverts them into sweet, sour, astringent, salty, and bitter tastes respectively to blend a different juice for each song.
Visitors to the Content Expo Tokyo 2017 on Wednesday (June 28) selected their favourite song from eight tunes, including Michael Jackson's "Billie Jean" and Norah Jones's "Come away with Me," and watched the machine mix a drink for them.
Twenty-eight-year-old visitor Aoi Toda said the juice helped give one of her favorite songs a new perspective.
Koji Izumi, 57, said his drink tasted unexpectedly good and said he wanted to try an alcoholic cocktail using the formula as well.
Goto said he hopes to create such cocktails in future.
The display is a prototype and the firm wants to add a further five flavours to enable it to widen its genre of music taste before it pursues a commercial product.