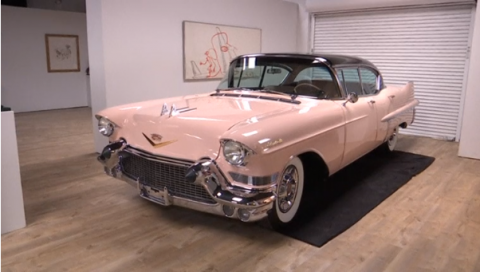 LOS ANGELES, United States (AFP) — A lineup of celebrity memorabilia and collectibles is hitting the auction block. GWS auctions has amassed a diverse collection which include big ticket items such as a pink Cadillac once by Elvis Presley to delicate pieces like Jackie O's nightgown. The one theme all of the offerings have in common is that at one time they belonged to some of the 20th century's biggest icons.
One of the biggest draws of the auction is the pink Cadillac once owned by Elvis Presley.
"I haven't seen one in a very very long time," said GWS auction head Brigitte Kruse. "It could be (worth) $100,000, it could be $2 million, you just never know. That is the beauty of auction so we will see what happens," she added.
Other rare items include a lucite Schimmel grand piano which was gifted to Whitney Houston by her ex-husband Bobby Brown as well as a collection of the singer's gowns.
A painting of a clown by singer Frank Sinatra and a nightgown and a collection of outfits once belonging to Jacqueline Kennedy Onassis will be on the auction block. Kruse says collectibles come in all forms and their value is based on what people are willing to pay for them.
And if a pink Cadillac is out of your price range, a jar filled with the Elvis Presley's hair will also be up for grabs.
The auction will take place online at www.gwsauctions.com/ at 10 AM PST (1700gmt) on November 11th.