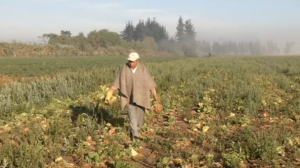 A helicopter flies over the drying out River Magdalena, which is currently experiencing its lowest level since environmental authorities began their measurements 50 years ago, due to an intense drought in Colombia, caused by El Niño phenomenon.
Fisherman Gabriel Barreto walks barefoot along the river's parched and cracked riverbed, which flowed with water six months ago and is the most important in the South American country.
Standing in his canoe, Barreto repeatedly throws his net for hours into the river hoping to fish under the blazing sun and sweltering 37 degrees celsius heat, without catching a single fish.
"It's all pretty bad because everything is very dry and no, there are no fish, it's tough. One hundred percent of fishermen have been affected by this because the river is very dry because there is not enough water," Barreto said.
The humble fifty-two-year-old fisherman, is one of millions affected by El Niño weather phenomenon, caused by the warming of Pacific waters that have hit several regions, including Latin America.
According to the predictions of the World Meteorological Organization (WMO) the phenomenon this season is the strongest of the last fifteen years and is on track to become one of the most powerful in the past 65 years.
The national government is working on an awareness campaign, to urge residents to save water as the phenomenon is thought to continue intensifying.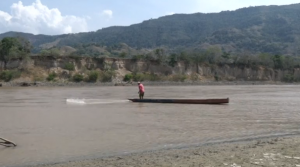 "The phenomenon of El Nino continues to be a very harsh reality, as we have said and confirmed today, it is the second strongest on record and unfortunately it will intensify from here until March," Colombian President Juan Manuel Santos told a news conference last week.
Many sectors of the economy are affected by El Niño phenomenon. Apart from fishing, agriculture also suffers from the ravages of lack of rain.
Meteorologists at the Institute of Hydrology, Meteorology and Environmental Studies (IDEAM), work on analysing the phenomenon and its effects.
"El Nino influences different sectors, so the agricultural part is then quite logically influenced. Crop yields tend to be lower because they don't have enough water, they don't have enough radiation and thereby, we notice losses. Some productions are not achieving medium levels but go below that in terms of size and production itself," said IDEAM's chief meteorologist of forecasts and warnings, Cristian Euscategui.
Besides being affected by drought, the plateau of Cundinamarca and Boyaca, also suffers from frost in the morning due to low temperatures at this time of the year, which causes the leaves of cabbages to turn brown.
Carlos Lopez, is one of many farmers who have been affected by the drought and cold spells.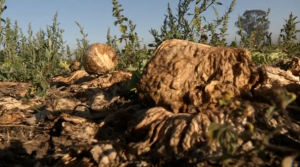 "It has been like summer throughout the year. There has been little rain but it's now it's strange (to see rainfall) and the drought. It was like summer all year round. It is now cold and it continues to be harmful anyway," said Lopez.
The last time there was such an intense El Niño phenomenon was between 1997 and 1998 when it caused over 20,000 deaths and losses of $34,000 million.
Although there are no estimates of the economic damages of El Niño, which began in 2015, experts warn that it will affect agriculture, fisheries, geological waters sources and health sectors in the country. (Reuters)