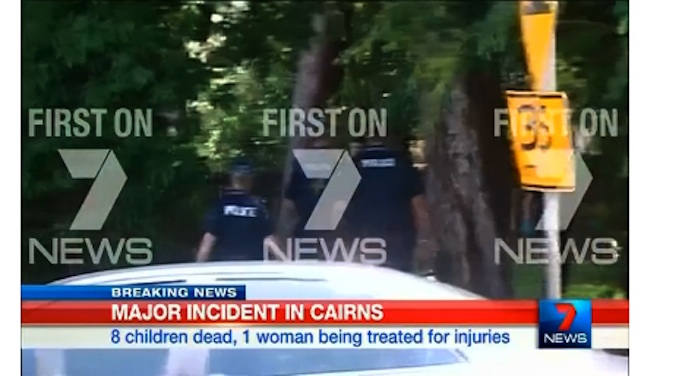 Eight children have been killed and a woman injured, police said on Friday (December 19), during what media outlets reported was a mass stabbing in Australia's tropical northern city of Cairns.
Queensland state police said in a statement they were called to a house in the Cairns suburb of Manoora just before midday after reports of a woman with serious injuries on the premises.
Detective Inspector Bruno Asnicar of Queensland Police addressed reporters at the scene saying the woman was receiving medical treatment for her injuries and is assisting them with their investigation.
"She is a thirty four year old woman I believe and it's very, very early days but she's in a stable condition," he said
Australia is already in a state of heightened alert after police stormed a Sydney cafe early on Tuesday morning to end a 16-hour hostage standoff in which three people were killed, including the hostage-taker.
"As it stands at the moment there is no need for the public to be concerned about this other than the fact that it's just a tragic, tragic event. The situation is well controlled at the moment. There shouldn't be any concern for anyone else out of this environment and as we progress further we'll be sharing the results of our investigation," Asnicar said.
"These events are extremely distressing for everyone of course and police officers aren't immune from that we're human beings as well. However the police that we have here are very highly trained, professional people and they are going about their job in a way that I would expect them to and QPS (Queensland Police Service) would expect them to. It's a very professional response. Cairns is very fortunate to have the resources that we have here on tap and we are missing nothing as far as conducting this investigation," he said.
Police found the bodies of the children, aged between 18 months and 15, when they were examining the location.
"I can tell you that at this stage I believe there's eight. As I said the scene's been locked down and that may go up or down," he said asked about the number of dead children.
The children range in age from 18 months to 15 years Asnicar said.
"That's what I'm told at the moment but you have to understand that the crime scene is locked down and we wont know until our forensic procedures are finished," he said.
Asnicar added that he expected the site to be locked down for a few days.
Reuters