(REUTERS) — At least 28 people died in Ecuador when a 7.8 magnitude earthquake struck off the country's northwest Pacific coast late on Saturday (April 16), causing "considerable damage" near the epicenter as well as in the largest city of Guayaquil.
The Andean nation's government recommended residents leave coastal areas over concern for rising tides following the quake.
Alarmed residents streamed into the streets of the capital Quito, hundreds of kilometers (miles) away, and other towns across the nation.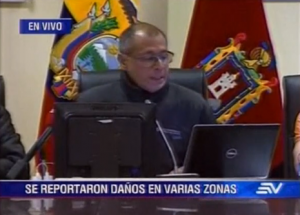 "Based on preliminary information, there are 16 people dead in the city of Portoviejo, 10 in Manta and two in the province of Guayas," said Vice President Jorge Glas in a televised address. "We continue to receive information."
The country's Geophysics Institute in a bulletin described "considerable damage" in the area of the epicenter and in Guayaquil, without providing further details.
It said the quake struck at around 8:00 p.m. (0100 GMT) at a depth of 20 km (12.4 miles).
Social media pictures showed a collapsed bridge in Guayaquil and a collapsed tower at an airport in the city of Manta.
Parts of the capital were without power or telephone service, with many communicating only via Whatsapp. Photos on social media showed cracks in the walls of shopping centers.
The capital's municipal government later said power had been restored and there were no reports of casualties in the city.
The Pacific Tsunami Warning Center said tsunami waves reaching 0.3 to 1 meter (one to three feet) above tide level were possible for some coastal areas of Ecuador.
Neighboring Peru issued a tsunami alert for the north of the country following the quake.
Across the Pacific in Japan, a 7.3 magnitude tremor struck Kumamoto province early Saturday, killing at least 32 people, injuring about a thousand and causing widespread damage, in the second major quake to hit the island of Kyushu in just over 24 hours. The first, late on Thursday, killed nine.