by Emily Manuel and MJ Racadio

(Eagle News) – EBC Films' award-winning movie "Guerrero" opened to a red-carpet premiere at the Palads Theater, Copenhagen, Denmark last May 26, 2019 to the delight of an international audience.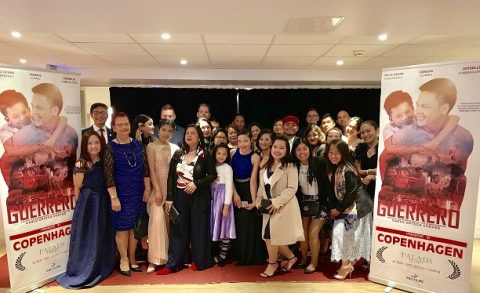 Moviegoers were captivated by the heartwarming story of a boxer named Ramon and his triumph over life's challenges, through the help of his younger brother, Miguel. The audience both laughed and cried throughout the movie.

Richelle Cerri, from Copenhagen, says the movie was "so good and so inspiring." She learned that "you should never give up no matter how difficult the problem is."

Sharmaine Hansen, from Copenhagen, also enjoyed the movie. "The movie gave so many important messages, such as no matter what we go through in life we have to keep on fighting until we win," she says.
Arnold Dulin, from Copenhagen, wants to recommend the film to his friends. "The movie has a good story, excellent acting and a good message: that life is like boxing and it doesn't count how many times you're knocked down but what matters is how many times you get up and keep on fighting," he says. He is also excited about the sequel, "Guerrero Dos."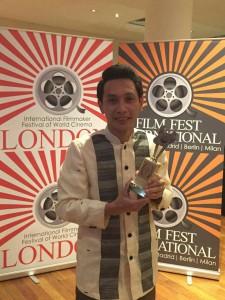 The movie is written and directed by international award-winning director Carlo Ortega Cuevas. It has already received several awards including "Best Feature Comedy Film" at the 2018 Amsterdam International Filmmaker Festival of World Cinema and "Best Editing of a Foreign Language Film" at the 2018 Madrid International Film Festival. Julio Sabenorio, who plays Miguel, also received Best Movie Child Performer of the Year at the 34th Philippine Movie Press Club (PMPC) Star Awards for Movies.
Since 2017, the film has been released in the United States and Canada, Asia, Middle East, United Kingdom and Europe. It is the first full-length feature film of EBC Films.
– Upcoming sequel –
Robert Capistrano of EBC Films reveals that "Guerrero Dos, Tuloy ang Laban" (Guerrero 2, the fight continues) is currently in production and targeted to be released later this year. "Our next project promises to fulfill the mission of EBC Films of providing relevant, entertaining movies that also teach moral values," he adds.
Another film that international audiences can look forward to this year is EBC Films' "Hapi ang Buhay, the Musical". The movie imparts lessons on how important it is not to easily rely on social media or "fake news." The film is also written and directed by Carlo Ortega Cuevas and recently received three nominations and an award for Best Indie Theme Song of the Year at the 35th PMPC Star Awards for Movies.