by Emily Manuel
Contributor, Eagle News
(Eagle News) — EBC Films takes center stage once more with the international release of its first full-length feature film, "Guerrero."
"Guerrero" premiered in Philippine cinemas on October 2017. Since then, it has won accolades, including, "Best Feature Comedy Film" in the 2018 Amsterdam International Filmmaker Festival of World Cinema, "Best Editing of a Foreign Language Film" in the 2018 Madrid International Film Fest, and "Movie Child Performer of the Year" in the 34th Philippine Movie Press Club (PMPC) Star Awards.
The movie follows the story of Ramon Guerrero, a boxer, who faces life's triumphs and failures with sheer determination and the help of his younger brother, Miguel. It's written and directed by Carlo Ortega Cuevas who has already won critical acclaim for his first movie under INCinema, "Walang Take Two".
– Asia and the Middle East –
The first international screening was held on August 2018, in an open-air cinema, in Tel Aviv, Israel.
In September 2018, the film was shown in Busan and Gwangju, South Korea, and Hong Kong, and made its way to Seoul in October, Singapore in November, and Japan in December.
– Europe –
The first European screening was held in Rome, Italy, in November 2018.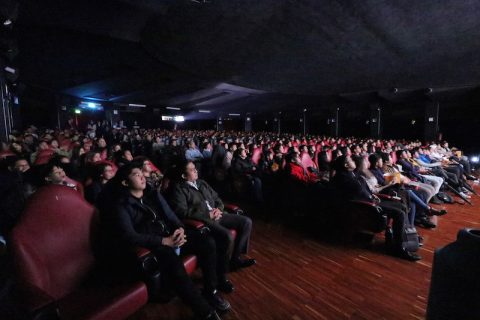 Viewers liked the movie because of the values it imparts. According to Gerald Constantino, "Da questo film ho appreso di mai arrendersi agli ostacoli e di andare sempre avanti e affrontare i problemi." [In this movie, I learned that you should never give up on hindrances and to always move forward and face the problems.]
– United States and Canada –
In December 2018, "Guerrero" premiered in North America with screenings in Canada and Las Vegas, Nevada.
Las Vegas viewers were proud to see a Philippine-made film being shown in the United States.
"It's a really beautiful movie. It's well written and directed by Carlo Ortega Cuevas. I'm really proud that we are having our very own Philippine movies here in Las Vegas," said Esmeralda Padilla-Gould, host of Vegas Vibes with Asian Culture TV. "I think the life lesson will be don't be discouraged, keep pursuing your dreams, no matter how exotic or impossible it may seem at the time. Of course, have faith in yourself especially in God. Just keep going and take chances."
The movie will be shown in select cities across the United States, Europe, the United Kingdom, and Canada in 2019. Schedules will be posted on the official Guerrero facebook page @GuerreroEBCfilms.
Booking inquiries may be sent to [email protected]