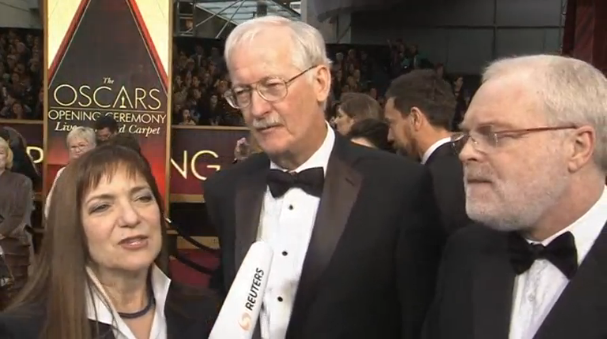 LOS ANGELES, CALIFORNIA, United States (Reuters) — Cold weather greeted celebrities on the Oscars red carpet on Sunday (February 26), but cloudy skies and the threat of rain failed to dampen spirits ahead of the movie industry's biggest night.
Best animated feature nominees were among the early arrivals in Hollywood, where temperatures were some 15 degrees Fahrenheit (8 degrees Celsius) below normal for late February.
The Academy Awards get underway torn between escapism and reality. The conflict is reflected in the wide range of best picture Oscar hopefuls and an awards season marked by fiery outbursts from Hollywood A-listers on immigration, civil rights and the rhetoric of U.S. President Donald Trump.
"It's the foreign language category and we feel very much in solidarity with Asghar Farhadi who decided not to come and we also wanted to say how much we detest the position that the U.S. government takes towards foreigners, immigrants at the moment," said foreign language Oscar nominee Maren Ade of German film "Toni Erdmann." Six directors whose films are competing in the Best Foreign Language Film category at the Oscars released a statement condemning "the climate of fanaticism and nationalism" they see around the world.
With a leading 14 nominations, romantic musical "La La Land" looks set to dance away with an armful of Academy Awards, including best picture, for its love letter to artistic ambition and Los Angeles itself.