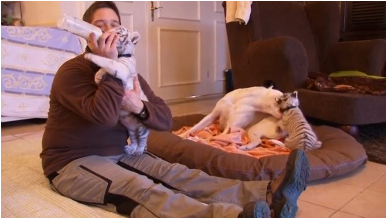 STUCKENBROCK, Germany (Reuters) —A dog at a German zoo is helping to rear Bengal tiger cub twins which were abandoned by their mother soon after birth, Safaripark Stukenbrock in northern Germany said on Monday (November 28).
One-month-old Peach and Pearl, born over the course of about an hour, were immediately rejected by their mother, said keeper Jeannette Wurms.
"The first-born was in critical condition. She was so cold that we couldn't take her temperature. Her snoot was all blue (motions) and so were the feet," she said.
Wurms and a colleague then did "the same you would (do) with a hypothermic child: body contact. You pull up your t-shirt and your sweater and place one on each side. We then rushed inside to feed them milk."
Ever since, the tiger cubs live in the keeper's living room on the zoo's premises.
Wurms' dog "Leon" quickly adopted the role of surrogate mother, acting as educator and entertainer, she said.
"They are constantly trying to be near him (Leon). He has taken on a responsible role and tries to educate them a little. I guess they will spend time together for a little longer so he has to start showing them now how far they can go," Wurms said, adding "and when he gets too rough he gets a slap in the face."
Both Wurms and her dog Leon have reared tiger and lion cubs before.
While she might be envied by many, Wurms says "these are not pets, they are animals of prey."
Apart from the tiring feeding hours, Wurms warned that once the cubs get bigger, "they can react unexpectedly and humans cannot deal with their violence and their strength. Much too much can happen too quickly which is why they belong to a place where they are of no danger to humans but where they can develop in a way which allows them to become animals of prey."
According to Wurms, "caressing" the animals through the bars still allows for close contact without endangering keepers' lives.