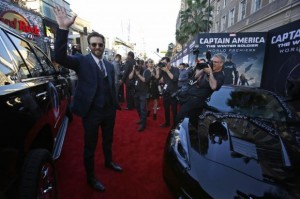 (Reuters) – "Captain America: The Winter Soldier," the sequel to Marvel's 2011 film about the red, white and blue superhero, smashed its way to $96.2 million in weekend ticket sales, setting a new record for an April release and speeding past last week's winner, "Noah."
In the process, it also validated the strategy of the film's distributor, Walt Disney Co, to ramp up its pipeline of films featuring super heroes made famous by bashing bad guys in Marvel Comics.
"Captain America," which stars Chris Evans as a scrawny World War Two reject given super powers from an experimental serum, easily exceeded the April take for the racing movie "Fast Five," which collected $86.2 million in ticket sales in April 2011.
Since Disney bought Marvel for $4 billion in 2009, Marvel characters have starred in some of Hollywood's biggest hits. "Iron Man 3" was last year's second-highest grossing film with domestic ticket sales of $409 million, according to the site Box Office Mojo.
In 2012, "Marvel's The Avengers" was the third-biggest film in Hollywood history, with $623.4 million in domestic sales and $1.5 billion worldwide.
"Captain America: The Winter Soldier" is "a safe bet" to pass $250 million, said Box Office Mojo.
Disney takes advantage of each hit by spinning it through its sprawling network of theme parks, TV studio and consumer products units. The movies sell well on DVD, and Disney will generate hefty revenue from sales of "Captain America" t-shirts, lunch boxes and action figures.
The company is also making four original live-action TV series for Netflix that will begin streaming next year.
"When you put the name Marvel on a movie, we think that it gives us essentially a head start with the audience," Disney Chief Executive Bob Iger told analysts during a conference call in February.
"Noah," starring Russell Crowe as the biblical figure, was second with $17 million in ticket sales from Friday to Sunday.
The dystopian action film "Divergent" was third with $13 million, for a total of $114 million since its March 21 release in U.S. and Canadian theaters.
"Captain America: The Winter Soldier" also scored the biggest opening weekend of 2014, and took in another $9.6 million at IMAX screenings, for which moviegoers a premium. That also set a new April record.
"I would certainly expect we can broaden out" beyond the usual Marvel film buyers, said Dave Hollis, Walt Disney Studios' executive vice president of film distribution. Hollis noted that some 90 percent of critics gave positive notices as collated by the Rotten Tomatoes website and audiences rated the film an A.
Fourth for the weekend, with sales of $7.7 million, was the independently released Christian drama "God's Not Dead," which continued its impressive run despite being panned by critics.
"The Grand Budapest Hotel" rounded out the top five, taking in $6.3 million. Starring Ralph Fiennes as a scheming concierge and directed by Wes Anderson, the film started slowly, playing in only four theaters on March 7 and has grown steadily. It is currently playing in 1,263 theaters.
Disney distributed "Captain America: The Winter Soldier." "Noah" was released by Paramount Pictures, a unit of Viacom.
Lionsgate distributed "Divergent." "The Grand Budapest Hotel" was released by Fox Searchlight, a unit of Twenty-First Century Fox. "God's Not Dead" was distributed by Freestyle Releasing.