BRASILIA Thu Apr 17, 2014 8:32pm EDT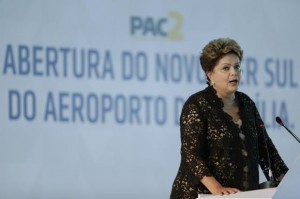 (Reuters) – Disapproval of Brazilian President Dilma Rousseff is steadily mounting less than six months away from an election in which she is still favored to win a second term, according to a poll published Thursday.
Rising inflation and a slow-moving economy have undermined her popularity to the point where more Brazilians now disapprove of the way she is governing their country than those that think she is doing a good job, the Ibope polling agency said.
Rousseff's personal approval rating dropped to 47 percent in April from 51 percent in March, while her disapproval rating has risen to 48 percent from 43 percent a month ago.
The poll published on the G1 news website of TV Globo showed approval of her government slid 9 points in the four months since December to 34 percent in April.
Rousseff's popularity recovered last year from massive protests over the lack of adequate public services, a high cost of living and expensive stadiums built for the soccer World Cup Brazil will host in June, when more demonstrations are expected.
Recent allegations of corruption and mismanagement at state-run oil company Petroleo Brasileiro SA, or Petrobras, have damaged Rousseff's image as a competent manager. The mushrooming scandal may lead to a congressional probe sought by her opponents and complicate her re-election bid.
Yet Rousseff's main rivals have not managed to capitalize on discontent with her government and the president has so far held on to a comfortable lead in polls of voter intentions ahead of the October 5 election.
While the once-booming economy is entering its fourth year of slow growth, unemployment remains low and welfare programs expanded by Rousseff have maintained popular support for the ruling Workers' Party after more than a decade in power.
In line with other recent surveys, the new poll showed support for Rousseff among voters slipped to 37 percent in April from 40 percent a month earlier, but backing for her main opponents remains stagnant.
Aécio Neves, the pro-business leader of the main opposition party PSDB, has 14 percent of voter support, and Eduardo Campos, a former state governor, has 6 percent, the poll found. The survey was done before Campos announced on Monday that popular environmentalist Marina Silva would be his running mate.
Brazilian financial markets rallied late on Thursday ahead of the poll's publication on hopes that Rousseff would lose support in the survey, increasing the chances of a more market-friendly government in 2015.
The Ibope poll of 2,002 people was conducted from April 10 to 14 and has a margin of error of plus or minus 2 percentage points.
(Reporting by Anthony Boadle; Editing by Mohammad Zargham)