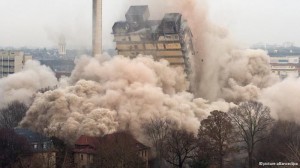 Thousands of spectators have watched the demolition of a skyscraper in Frankfurt that once formed part of the university. The collapse took all of ten seconds.
Almost one ton of explosives inserted into 1,500 drilled holes were used on Sunday to raze the so-called "AfE Turm" ("AfE Tower"), standing at 116 meters (381 ft).
Police estimate that more than 10,000 people gathered in the center of Germany's financial hub Frankfurt to watch the spectacular demolition. The building is the highest-ever in Europe to have been demolished using explosives.
Explosives expert Eduard Reisch was in charge of blowing up the 50,000-ton skyscraper, which was completed in 1972.
"It is almost 100% possible to blow up such a building without hurting people or neighboring buildings," Reisch said before the explosion. Barriers of up to six-meters-high (6.6 yards) were erected around the skyscraper to prevent any damage to nearby constructions.
DW.DE
http://www.dw.de/demolition-experts-bring-down-frankfurt-skyscraper/a-17403679