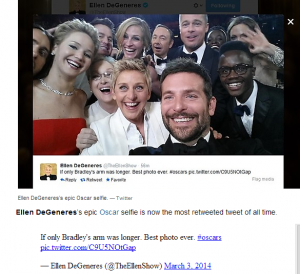 (Reuters) — Comedienne and talk show star Ellen DeGeneres returned as Oscar host on Sunday (March 2), bringing her deadpan affability, and free pizza, to the 86th Academy Awards show while still poking fun at Hollywood royalty.
In a back-to-basics approach to a live, 3 1/2-hour telecast that largely eschewed sophisticated clip montages and lavish song-and-dance productions, DeGeneres displayed her flair for playing informality for laughs.
Shrugging off complaints from some critics that the breezy levity of her first Oscar stint in 2007 was at odds with the Academy Awards' traditional sense of decorum, DeGeneres forayed into the Dolby Theatre audience several times during Sunday's show to mingle with the film industry elite, as she did seven years before.
She handed a faux consolation prize – a pair of lottery tickets – to "American Hustle" star Bradley Cooper after he lost his bid for best supporting actor; took a "selfie" snapshot with a group of nominees that was swiftly re-tweeted more than 2 million times during the show; and even ushered a pizza delivery guy into the auditorium to hand out slices to the stars, then called on producer Harvey Weinstein to pay the tip.
"No pressure, only a billion people are watching, whatever you feel is right," she shouted.
While mostly veering away from the ribald streak that marked Seth MacFarlane's widely panned, and far more provocative, stint as emcee last year, DeGeneres showed she was not above mocking the movie industry's biggest stars.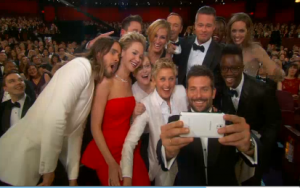 In another pithy moment, DeGeneres declared two possible scenarios for the final outcome of the Oscar race: "Possibility No. 1, '12 Years a Slave' wins best picture. Possibility No. 2, you're all racists."
Early reviews of DeGeneres' latest performance were mostly positive.
Variety's TV columnist Brian Lowry gave her points for "playful jabs" at the stars that "managed to feel fun without being mean-spirited," saying that her opening monologue "screamed of a desire to dial back the show to safer terrain."
USA Today said DeGeneres kicked off her sophomore Oscar run "in uproarious fashion," and the Washington Post review said that DeGeneres "told jokes that were easy on the ears, gentle on the mind and, for the most part, sparingly nice."