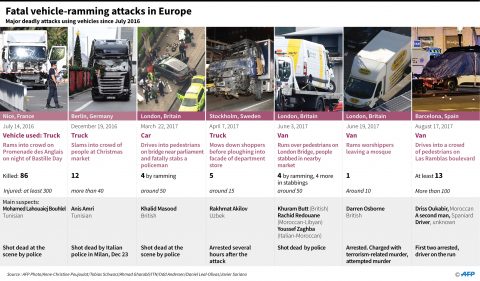 (Eagle News) — Since July 2016, Europe has seen a deadly trend of attacks where "terrorists" used vehicles to kill and harm innocent people – bystanders, tourists, pedestrians,  including teenagers and children.
The places they targeted were busy and popular streets, tourist spots, markets or just about any place where there were many pedestrians.
The deadly vehicle-ramming attacks hit popular and highly developed European cities which people would normally think were safe and well-secured.
Nice, France truck attack – July 14, 2016
As can be seen in this Agence France Presse infographics, the deadly attacks using vehicles became more and more frequent since July 14 2016, when a truck rammed into a crowd on Promenade des Anglais on the night of Bastille Day in Nice, France where 86 were killed and at least 300 injured.  The truck driver was shot dead by the police. The attack took place at night, at around 10:30 p.m., just a few minutes after the much-anticipated Bastille Day fireworks display that had attracted a lot of spectators. The police later identified the perpetrator as perpetrator as Mohamed Lahouaiej-Bouhlel, a 31-year-old man of Tunisian nationality, with a French residency permit and living in Nice.
Berlin, Germany "truck attack" – December 19, 2016
Five months later, another "truck attack" incident happened, this time in Berlin, Germany. A truck rammed into a crowd of people in a holiday night market on December 19, 2016 in Breitscheidplatz in Berlin, killing 12 people and injuring more than 40 others. The attack also happened at night, at around 20:02 local time (8:02 pm.) The truck driver escaped. Four days later, on December 23, the suspect was killed in a shootout with police near Milan, Italy, after he shot at one of two policemen who tried to ask him for his identification documents. The suspect was identified as Anis Amri, a Tunisian failed asylum seeker who had pledged allegiance to the Islamic State of Iraq and the Levant (ISIL)
-2017 saw more deadly vehicle-ramming attacks
This year, 2017, the vehicle-ramming attacks became more frequent in Europe. And three of these happened in the heart of London.
Westminster car attack in London – March 22, 2017
The first this year was on March 22 when a car drove into pedestrians on the pavement along the south side of Westminster Bridge and Bridge Street, killing four people and injuring some 50 others. This was near the British Parliament, in the vicinity of the Palace of Westminster in London. The driver, then abandoned the car as it crashed on the fence of the Palace grounds. He then fatally stabbed an unarmed police officer. The suspect was then shot dead by the police at the scene. He was later identified as 52-year-old Briton Khalid Masood, who was born in Kent as Adrian Russell Elms, but later converted to Islam.
Stockholm, Sweden truck attack – April 7, 2017
More than two weeks later, on April 7, in busy Stockholm, Sweden, a truck mowed down shoppers before ploughing into a façade of a department store in Stockholm, Sweden. Five people were killed, including an 11-year old girl and a 69-year old woman. Another 14 were injured. The truck's driver was arrested several hours later, and is now facing charges. The suspect was identified as Rakhmat Akilov, a 39-year-old rejected asylum seeker from Uzbekistan, who is an ISIL sympathizer.
London Bridge van attack – June 3, 2017
Two months later, on June 3, another deadly van attack happened in the iconic London Bridge. The van driven by three male occupants ran over pedestrians after mounting the pavement of London Bridge, killing four people. Afterwards, the van crashed and the three male persons on board escaped, running to the nearby Borough Market pub and restaurant area where they stabbed people with long knives, killing another four people. The attack injured around 50 people.  The three suspects were later shot dead.
Finsbury Park van attack in London – June 19, 2017
Two weeks later, on June 19, again in London, another van attack occurred. This time the target were worshippers leaving a mosque. One was killed while 10 others were wounded. The suspect was arrested and charged with terrorism-related murder and attempted murder. The suspect, a 47-year old British man and father of four from Cardiff, Darren Osborne, allegedly turned against Muslims in the wake of the London Bridge attack on 3 June 2017.
Double car attacks in Spain – August 17-18, 2017
Two months after this terror attack, in August, the two car attacks in Spain happened in just a matter of hours, killing 14 people and injuring more than 100 others from at least 34 countries.
It was the first deadly vehicle-ramming attack in Spain.  The first of these two attacks happened in Barcelona when a van ploughed into a crowd of pedestrians on the famous Las Ramblas boulevard on Thursday, August 17, at around 4:50 p.m. The van driver escaped, and police are still looking for him.
Some eight hours later in Cambrils, a resort town 120 kilometers (75 miles) south of Barcelona, an Audi A3 car hit pedestrians, injuring six civilians and a police officer. One of the civilians, a woman, later died.
The five occupants of the car were killed by police, who said they were "working on the hypothesis that the terrorists shot dead in Cambrils are linked to what happened in Barcelona".
A fourth person has already been detained in relation with the events that have taken place in the last few hours in Cambrils and Barcelona," police in the Catalonia region tweeted.
In all these attacks, a driver on the wheel with a deadly mindset —  driven by hatred and bigotry — turned a seemingly innocent car, van or truck into an instrument of terror that made any popular crowded street — even in the highly secured cities of Europe — unsafe.
(Eagle News Service)