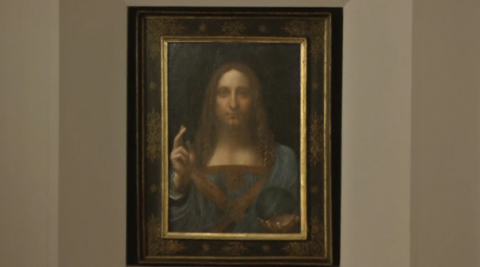 HONG KONG, China (Reuters) — The last privately-owned painting, Salvator Mundi, by Leonardo da Vinci was unveiled in Hong Kong on Friday (October 13).
The Leonardo Da Vinci work, one of fewer than 20 paintings accepted from the artist's own hands, is expected to fetch $100 million when it hits the auction block at Christie's in New York on November 15.
Christie's Head of Old Master Painting, Francois de Poortere, said the painting, sometimes called the male Mona Lisa, had long been thought to have been lost or destroyed.
The painting was first recorded in King Charles I's royal collection, which disappeared from 1763 until 1900 by which time, Christ's face and hair had been extensively repainted and the origins and authenticity of the painting had been forgotten.
In 1958, it was consigned to a Sotheby's auction and sold to an American collector for just under $60, it emerged again in 2005 when it was purchased by an American estate. It was only in 2007, that Leonardo's authorship of the painting was rediscovered, according to Christie's.
Salvator Mundi will be sold at Christie's in New York at its November 15 sale of post-war and contemporary art following the public exhibitions in Hong Kong, London and San Francisco. The world record auction price for a painting is held by Pablo Picasso's 1955 painting Les Femmes d' Alger which sold for $179 million in 2015.