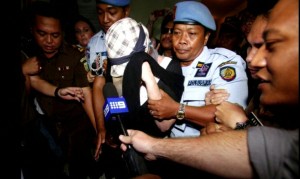 Indonesia released on parole convicted Australian drug trafficker Schapelle Corby on Monday (February 10) from a prison on the resort island of Bali despite calls from some legislators for the high-profile prisoner to serve out her full term.
Corby, 36, was among nearly 1,300 convicts approved for parole, the Justice Ministry said in a statement, because she "fulfilled substantive and administrative requirements as laid out by the law".
Corby was sentenced to 20 years in prison in 2005 for trying to smuggle 4 kg (8.8 lb) of marijuana into Bali. Drug trafficking usually carries the death penalty in the world's fourth largest country.
A small group of MPs had urged against clemency.
President Susilo Bambang Yudhoyono granted Corby's clemency plea in 2012, reducing her sentence by five years because of good behaviour.
The parole announcement comes at a time of heightened tension between the neighbours over the handling of asylum-seekers who attempt to reach Australia via Indonesia and revelations last year that the Australian government spied on top Indonesians.
Relations deteriorated to a 13-year low last year following media reports that Australia's intelligence services had tried to eavesdrop on mobile phone conversations of the Indonesian president, his wife and other senior government officials.
Indonesia suspended military and intelligence cooperation with Australia in the wake of the allegations, which were based on documents leaked by former U.S. National Security Agency contractor Edward Snowden.
The two sides have since agreed to cooperate to repair relations.
(Reuters)