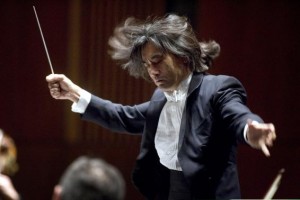 (Reuters) – U.S. conductor Kent Nagano feels he lives in three worlds – his native California, his ancestral Japan and the Europe of the music he conducts. But his spirit is on a surfboard in the Pacific Ocean.
Nagano, 62, is not alone among prominent musicians in having a passion that seems at odds with metronomes and music scores: the late Austrian conductor Herbert von Karajan loved fast cars and opera composer Giacomo Puccini kept a blunderbuss at his Italian country villa that could damage a whole flock of ducks.
Nagano, who grew up on a farm in California, near the beaches of Morro Bay south of San Francisco, says surfing is a bit like music, keeping him in touch with nature and the cosmos. And in the era when he started out, surfing was still free.
"Today when you use that word it comes with a lot of connotations, usually phosphorescent wetsuits, fancy sports cars and expensive surfboards," said Nagano, whose trim build and long hair mark him not only as a surfer but also, he told Reuters, prompts people inevitably to spot him as a Californian.
"Nearly every child I knew surfed because there's no admission to the sea," he said over coffee in Geneva where, as music director of the Montreal Symphony Orchestra, which is on a tour of Europe, he conducted a program of Liszt and Berlioz.
"And at least for children the interaction with nature is vital … Unless you have a constant, active and direct dialogue with nature, some people will end up being very limited."
In 2015 Nagano will become general music director of the Hamburg State Opera and Philharmonic Orchestra, after a career that has included similar posts in Lyon, Los Angeles and, most recently, the Bayerische Staatsoper in Munich.
In Munich he oversaw the world premieres of Unsuk Chin's "Alice in Wonderland," Jorg Widmann's "Babylon" and Peter Eotvos's "The Tragedy of the Devil", putting on cutting-edge new works for what he proudly said were sold-out houses.
PARENTS INTERNED
Nagano's farm childhood might at first glance suggest limitations, as far as music is concerned, but his mother, a trained microbiologist, was also an accomplished pianist.
His parents were among the tens of thousands of Japanese Americans interned as potential enemy aliens during World War Two – an experience that spelled financial and social ruin for many but for the Naganos had an unexpected upside.
Not only did neighbors look after the farm while the Naganos were interned, but Nagano's mother, singled out for "scholastic acumen", won a scholarship to study near Boston.
"So yes, it was and remains a stain on American history," Nagano said. "But even within the horrendous blunders and terrible, terrible abuse, I think you can find a positive. At least in our family, we were lucky to have some positive."
Morro Bay had an inspiring music teacher, Wachtang Korisheli. After that Nagano studied sociology and music at the University of Santa Cruz and music at San Francisco State
He made his way to Boston as assistant conductor to Seiji Ozawa at the Boston Symphony Orchestra and played a key role assisting Ozawa in the world premiere of French composer Olivier Messiaen's opera "Saint Francois d'Assise" in Paris in 1983.
That led to an internship with Messiaen, living in the home of the mystically religious composer who used birdsong in his music and taking piano lessons from the composer's wife, Yvonne Loriod. Messiaen later bequeathed Nagano his piano.
"OPENED DOORS"
"He really opened up the world for me – and an artist needs to have doors, at least philosophical and aesthetic doors, opened," Nagano said. He credits Messiaen with getting him out of his American mindset and making him feel at home with European music, which is the core of Nagano's repertoire.
Another eye-opener was a trip Nagano made to Japan, with Ozawa and the BSO, in his 20s. Nagano and a blonde-haired friend found themselves crushed into the Tokyo subway and he had a feeling of people staring. But when he looked around, he realized they were all staring at his blonde friend, not at him.
Nagano, a third generation Japanese American, says that ever since, he has felt an inexplicable attachment to the country, despite his poor command of the Japanese language that used to upset his grandmother "with good reason".
"So why is it that when I go to Japan there is definitely some inexplicable relationship?," said Nagano, whose wife is the Osaka-born pianist Mari Kodama.
"It's mysterious. Why is it that when I go, there are parts of me that feel I can exhale for the first time, that I feel there is a sense of peace that – can you imagine – never occurred before in my entire life?"