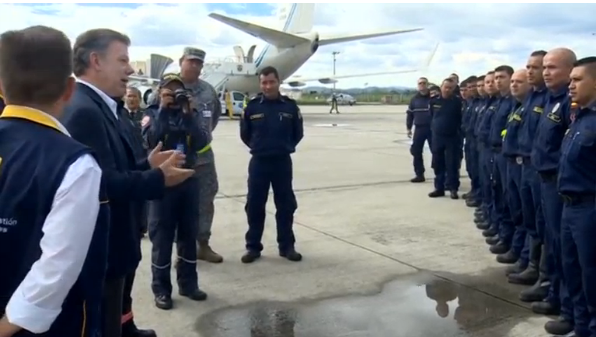 BOGOTA, Colombia (Reuters) – Colombian President Juan Manuel Santos bid farewell on Sunday (April 17) to 65 search and rescue experts heading to Ecuador where Saturday's 7.8-magnitude earthquake left at least 246 dead and has caused aftershocks so strong that one caused the evacuation of a hospital in neighbouring Colombia.
The 7.8 magnitude quake struck off the Pacific coast on Saturday and was felt around the Andean nation of 16 million people, causing panic as far away as the highland capital Quito and collapsing buildings and roads in a swath of western towns.
The Ecuadorian government said 246 people had died and 2,527 were injured in the latest tally early on Sunday evening. A state of emergency was called in six provinces.
Speaking at the Catam military base in Bogota, Santos sent his condolences to the neighbouring country.
"We want to express our solidarity with the Ecuadorian people and their authorities. We Colombians are accompanying them through this distressing, painful time," he said, adding that Colombia was sending water and military rations by ship.
"A ship is leaving Buenaventura with water and military rations for the port of Manta and now, in a few minutes, 65 rescue workers from the Caceres command unit will leave. They are experienced. They have been trained. Several of them were in Haiti," he said.
In international aid, Venezuela, Chile and Mexico were sending personnel and supplies, the left-leaning Correa government said. The Ecuadorian Red Cross mobilized more than 800 volunteers and staff and medical charity Medecins Sans Frontieres said it was sending a team from Colombia.
The earthquake was felt in the Colombian cities of Cali, Pasto, Popoyan and Buenaventura.
Authorities said there were some 163 aftershocks.
They were so strong that they prompted authorities to evacuate patients in this hospital, south of Cali, while they ensured the integrity of the building which cracked during the earthquake.
"Five floors were evacuated. When we arrived, the medical personnel had already allowed the evacuation. The patients were on the stairs so we took them to the first floor," said firefighting commander Carlos Garcia.
The Ecuadorian government called it the worst quake in the country since 1979. In that disaster, 600 people were killed and 20,000 injured, according to the U.S. Geological Survey.
The Ecuadorian quake followed two large and deadly quakes that struck Japan since Thursday. Both countries are located on the seismically active "Ring of Fire" that circles the Pacific, but according to the U.S. Geological Survey large quakes separated by such distances would probably not be related.