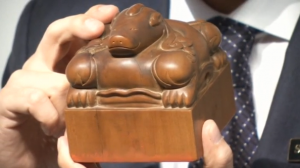 HONG KONG, China (Reuters) – The largest imperial seal used by Chinese emperor Kangxi went under the hammer in Hong Kong on Wednesday (April 6) and fetched $11.8 million.
Sotheby's said an Asian buyer won the bid and that it set the third highest price for any Chinese imperial seal sold at an auction.
It added that the price also set a world auction record for a seal carved for Emperor Kangxi, who ruled China from 1661 to 1722.
"These objects are very, very hard to price, because you're not really selling the physical object as it is, you're not selling a piece of wood, you're selling the symbolism of the seal. So it's always very hard to gauge how much it will fetch. $12 million is an extraordinarily strong price for an object like that," Deputy Chairman of Sotheby's Asia and International Head and Chairman of Chinese Works of Art, Nicolas Chow, said.
The seal was described by Sotheby's as the most important Chinese historical object ever to be offered at auction.
"Well this is the largest seal ever carved for Emperor Kangxi, who was the longest reigning monarch in the history of China. The four characters on the base say 'jingtian qinmin' which means 'revere heaven, and serve thy people'. It really crystallizes the political theory in China whereby heaven bestows its power upon the ruler who is righteous and benevolent. What it really says is, 'I revere heaven, I'm righteous, I serve my people well, therefore I am the legitimate ruler of this country,'" Chow said.
The "pig dragon" on the seal, a supernatural beast, symbolizes the link between heaven and earth, Chow added.
He said Wednesday (April 6)'s sale of Chinese porcelain collection also attracted a large number of Japanese bidders.
"The Pilkington Collection of Chinese Art included quite a lot of material, it's very, very classic in character, and this is what Japanese collectors in porcelain are after. So I was not surprised to see so many Japanese buyers in the room and on the phone bidding strongly today. It's unusual to see so many. But given the character of the collection, it has really smoked everyone out from Japan to come and participate," Chow said.
Among the top lots, a blue and white moon flask from the Yongle Emperor period (1403-24) sold for $14.2 million, while a white and blue holy water vessel from the same period fetched $12.7 million.
Wednesday (April 6) concluded Sotheby's Spring Sales.
Its rival Christie's is hosting their Spring auctions from May 27 to June 1