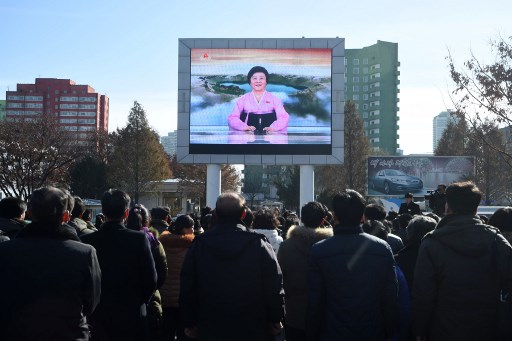 BEIJING, China (AFP) — China on Wednesday voiced "grave concern" over North Korea's test of a missile capable of striking anywhere in the United States and called for talks to peacefully resolve the nuclear crisis.
Foreign ministry spokesman Geng Shuang said Beijing's proposal for North Korea to freeze weapons tests in return for the US to suspend military drills in the region was the best approach to ease tensions.
Washington has rejected that approach.
China hopes all sides will work on the "peaceful settlement" of the issue as a military option is not the solution to resolve the crisis, Geng told a regular news briefing.
"China expresses grave concern and opposition to the relevant launching activity," the spokesman said.
Beijing "strongly urges" North Korea to observe UN resolutions and "stop actions that heighten tensions on the Korean peninsula," Geng said.
"At the same time we also hope the relevant parties will act cautiously to work together for the peace and stability of this region."
North Korean leader Kim Jong-Un said his country had achieved full nuclear statehood after what he said was the successful test of a new missile capable of striking anywhere in the United States.
The intercontinental ballistic missile (ICBM) launch snapped a two-month pause in testing by the North despite China's opposition to North Korea's weapons tests.
The United Nations Security Council, of which China is a veto-wielding permanent member, agreed to hold an emergency session later Wednesday to discuss the launch and US calls for more sanctions to be imposed on North Korea over its rogue behavior.
China is North Korea's largest trading partner, but it has backed a series of UN sanctions against Pyongyang over its nuclear and missile activities, straining ties between the Cold War-era allies.
US President Donald Trump has urged his Chinese counterpart Xi Jinping to use his economic leverage to exert more pressure on North Korea.
The Trump administration has also imposed sanctions this month on Chinese companies accused of doing business with North Korea, a move decried by Beijing as "wrong"
A Chinese special envoy visited North earlier this month but few details from his meetings emerged, with the Chinese government merely saying that issues of regional concern were discussed.