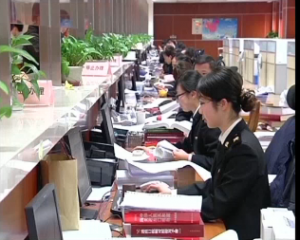 (Reuters) –China overtook the United States as the world's largest goods trading nation in 2013, the country's Ministry of Commerce announced on Saturday.
The ministry's statistics, preliminarily confirmed by the WTO Secretariat, showed that China's annual trade in goods reached 4.16 trillion U.S. dollars in 2013. Exports of the world's second largest economy rose 7.9 percent year on year, reaching 2.21 trillion U.S. dollars, and its imports rose 7.3 percent year on year, reaching 1.95 trillion U.S. dollars.
Meanwhile, the U.S. Commerce Ministry revealed in February that the country saw 3.91 trillion U.S. dollars of trade in goods last year, 250 billion less than that of China.
"It is a new milestone on the road of our country's foreign trade development. It is also a great achievement of our country's reform and opening-up policy, and our active participation in economic globalization," said Yao Jian, spokesman for the Chinese Ministry of Commerce.
Despite that China becomes the world largest foreign trader, the country's export products with intellectual property, high technology, high added value and high profit account less than 10 percent of the total.
Besides, China is 590 billion U.S. dollars behind the United States in terms of service trade.
China's service trade took up 5.6 percent of the world's total in 2012, ranking the third. However, its volume did not amount to half of that of the United States.
China has had a deficit in service trade since 2000, reaching 118.5 billion U.S. dollars in 2013, the largest deficit ridden nation.
The trade deficit also occurred in tourism, transportation, proprietary right and insurance. The deficit reached 70 billion U.S. dollars in tourism alone.
By 2013, China had faced the anti-dumping investigation for 18 years in a row and encountered the anti-subsidy for 8 years in a row, the worst victim of trade protectionism in the global.
Just in the first 10 days in January, the Ministry of Commerce released 14 trade alerts.
The boom of cross-border e-commerce helped shape China's world largest foreign trader.
A report from IZP, a China-based big data processor, showed the growth rate of e-commerce was at least 30 percent while export in traditional foreign trade was less than 10 percent annually.
More than 200,000 small companies in China are doing business online. Their annual turnover has surpassed 250 billion U.S. dollars. Half of China's exports to Latin America and Russia is done via Internet. China is competing with the United States to be the center of the cross-boarder trade.