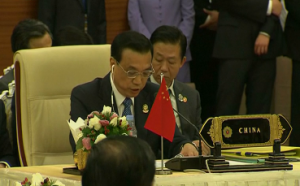 (Reuters) — China's Prime Minister Li Keqiang proposed a friendship treaty with Southeast Asian countries and offered $20 billion in loans on Thursday (November 13) but held firm on the line that Beijing will only settle South China Sea disputes directly with other claimants.
China, Taiwan and four members of the Association of Southeast Asian Nations (ASEAN) have competing claims in the sea where concern is growing of an escalation in disputes.
"We are willing, on the basis of unanimous agreement, to soon reach an agreement on a code of conduct for the South China Sea, and are willing to continue carry out meaningful communication with ASEAN countries on implementing a declaration and a framework for discussions on the basis of respect and mutual trust. Our aim is for the South China Sea to become a peaceful sea for the countries around it and a global sea of friendship," Li Keqiang told leaders at an East Asian summit in Myanmar.
The treaty is seen as an attempt by China to dispel any notion it is a threat and Li said China was willing to make pacts with more countries on good-neighbourliness and friendship.
Li also offered ASEAN countries $20 billion in preferential and special loans to develop infrastructure, an attractive proposition for a region struggling to fund the roads, ports and railways needed for growth.
Still, he reiterated China's resolve to safeguard its sovereignty and its position that maritime disputes should be settled bilaterally rather than collectively or through arbitration.
The Philippines, one of the ASEAN claimants, has irked China by seeking international arbitration over China's claims to about 90 percent of the South China Sea.
 Philippine diplomatic sources were cool to China's treaty offer, saying it lacked substance and was similar to a 2012 Philippine proposal that China ignored.
ASEAN leaders hoped to persuade their giant neighbour to take a less bellicose approach to the overlapping claims when they met Li behind closed doors on Thursday.
But despite the backroom talk, ASEAN as a group has been reluctant to antagonise China.
The Philippines and Vietnam have sought closer U.S. ties to counter what they see as China's aggression.
In May, China sent an oil drilling rig to waters claimed by Vietnam, sparking deadly anti-Chinese riots in Vietnam.
U.S. President Barack Obama, also in Naypyitaw for the East Asian summit, held his first formal meeting with Vietnamese Prime Minister Nguyen Tan Dong on Thursday.
On October 2, the United States decided to start easing a nearly four-decade lethal arms embargo on Vietnam.