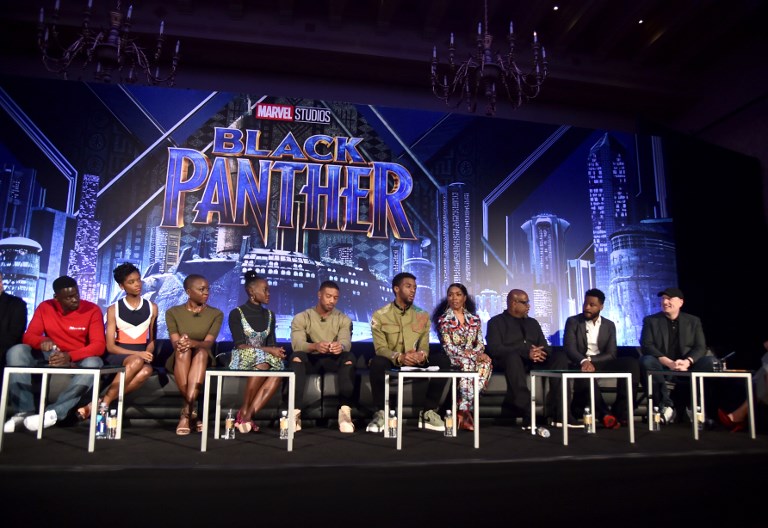 LOS ANGELES, United States (AFP) — "Black Panther" star Chadwick Boseman revealed Tuesday doubters had tried to convince him not to give the superhero an African accent — and how proud he was to prove them wrong.
The 41-year-old American stars in the titular role in the 18th movie in the Marvel Cinematic Universe — the first black superhero to get his own standalone movie.
"There was a time period where people would ask me questions about whether or not an audience could sit through a movie with a lead character that spoke with that accent," Boseman said of the east African inflection he gives the superhero — alias King T'Challa.
"I became adamant about the fact that it's not true," he added, stressing that none of the naysayers had come from with Marvel itself but from "the outside."
"The intonations and melodies inside an African accent are just as classical as a British one or a European one."
Boseman was speaking at a Beverly Hills news conference along with director Ryan Coogler, co-stars Michael B Jordan, Lupita Nyong'o and Danai Gurira and the rest of the cast the morning after Monday's glittering Hollywood premiere.
The actor got his break after a decade as obscure television and indie film actor when Marvel came calling in 2014 with a lucrative five-picture deal to play Black Panther.
His appearance in "Captain America: Civil War" (2016) brought Boseman his first taste of real fame and his celebrity looks set to skyrocket when "Black Panther" opens on February 16, followed in May by "Avengers: Infinity War."
King of Wakanda
T'Challa, king and protector of the technologically advanced fictional African nation of Wakanda, has been characterized as the first black superhero, which is partly true.
Around 30 black characters have donned the lycra for the big screen since the early 1990s, including Marvel's Falcon (Anthony Mackie since 2014), Wesley Snipes's titular vampire hunter in "Blade" (1998) and Halle Berry's Kenyan princess Storm in four "X-men" movies.
The Wakandan royal can claim to be the first black superhero to land a standalone movie in the MCU and the first in mainstream American comics, having featured in "The Fantastic Four" in 1966.
"All the emotions and aspects of the character can be shown… with that accent, and we have to take the opportunity to show that," Boseman added.
"His ancestors have never been conquered and he's never been conquered. Wakanda is what it is — he doesn't have to go to Oxford or Cambridge or Yale to study, he got his education at home."
Born in South Carolina, the son of a nurse and an upholstery entrepreneur, Boseman has roots in the west African state of Sierra Leone.
Before Marvel, he was best known for acclaimed portrayal of the legendary Jackie Robinson in Brian Helgeland's "42" (2013), which had the highest-grossing debut for a baseball movie in Hollywood history.
He was also lavished with praise for his interpretation of soul singer James Brown in "Get on Up" (2014), earning inclusion among the top 10 performances of 2014 by Time magazine.
© Agence France-Presse