by MJ Racadio
Contributor
PASAY CITY, Philippines —  Cinemalaya recently celebrated 15 years of the Best of Indie Films and recognized the best independent films, the upcoming and veteran directors from short to full-length feature films, as well as the best performers in these films.
The Filmfest was held in partnership with the Cultural Center of the Philippines.
Below are some photos of the highlights of the event, as well as the complete list of winners.
.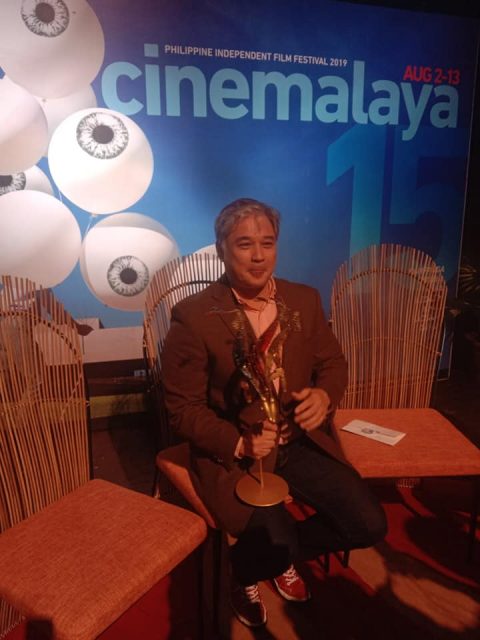 #Cinemalaya2019 Complete List of Winners.
Short Film Category
 Best Director Short Feature: DON SENOC, In Our Space
Best Short Feature Film: '#WagMoKongKausapin by Josef Gacutan
Best Screenplay Short Feature: #KONTROLADONIGIRLYANGBUHAYNYA by Gilb Baldoza
Audience Choice Short Feature: #HEISTSCHOOL by Julius Renomeron Jr.
NETPAC Award Short Feature: #DISCONNECTIONNOTICE by Glenn Averia
Cinemalaya 2019 Special Mention for Subject
Matter, Short Feature: #HELENGMAHARLIKA by Norvin Delos Santos
Full-Length Category
Best Full-length Film: #JOHNDENVERTRENDING by Arden Rod Condez
Best Director Full-length: EDUARDO ROY JR. for F#*@BOIS
Best Performance of an Actor: #JANSENMAGPUSAO for John Denver Trending
Best Performance of an Actress: #RUBYRUIZ for #Iska
Best Performance of an Actor in a Supporting Role: #RickyDavao for F#*@BOIS
Audience Choice Full-length: #BELLEDOULEUR by Joji Alonso
NETPAC Award
NETPAC Award Full-length: JOHN DENVER TRENDING by Arden Rod Condez
NETPAC Award Special Mention: #SaAmongAgwat by Don Senoc
Special Jury Award: #EDWARD by Thop Nazareno
Special Jury Award: # appeared  by Shaira Advincula
Photo Credits: MJ Racadio
For more details about the film showing schedules visit: