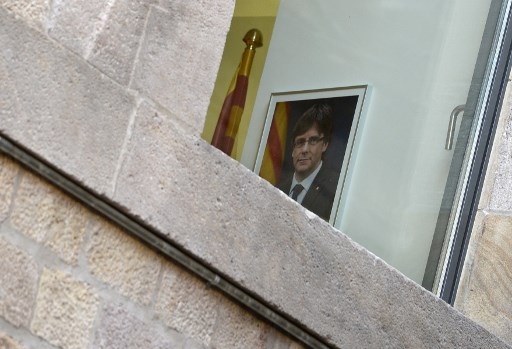 BRUSSELS, Belgium (AFP) — Carles Puigdemont, who was removed from office as Catalonia's president last week by Madrid's central government, spoke with a lawyer in Belgium on Monday as Spanish prosecutors sought rebellion charges against the region's separatist leaders.
But Paul Bekaert, who specializes in asylum issues, said "Puigdemont is not in Belgium to request asylum," only to prepare a legal riposte to any eventual moves by Madrid.
"On this matter (asylum) nothing has yet been decided," he said.
"I spoke with him personally in Belgium… and he officially made me his lawyer.
"I have more than 30 years of experience with the extradition and political asylum for Spanish Basques, and it's probably because of this experience that he came to me."
Bekaert was one of the lawyers for Luis Maria Zengotitabengoa, a suspected member of the armed Basque separatist group ETA, whose extradition from Belgium to Spain was authorized in 2010.
Spain's chief prosecutor Jose Manuel Maza said Monday that he was seeking charges including rebellion — punishable by up to 30 years in prison — and sedition against the Catalan leaders who were sacked by Madrid on Friday.
Maza said they had "caused an institutional crisis that led to the unilateral declaration of independence carried out on October 27 with total contempt for our constitution."
A court now has to decide whether to bring charges.
But several experts said it seemed unlikely that Puigdemont would be able to secure the status of political refugee in Belgium.
"It's quite exceptional to obtain asylum for a citizen of a European Union country," Dirk Van Den Bulck of Belgium's CGRA refugee agency told RTBF television.
He would have to prove a "threat of persecution" in his country of origin and an impossibility of being protected there, Van Den Bulck said, which would be a direct contradiction of "the respect of fundamental rights" required of all EU members.
Belgium's immigration minister, a member of the Flemish separatist N-VA party, suggested on Saturday that Puigdemont could receive asylum.
But Belgian Prime Minister Charles Michel later poured cold water on the idea, and an N-VA spokesperson told AFP the party had not invited Puigdemont to Brussels.
Puigdemont maintains that the result of the banned independence referendum on October 1 gave the region's parliament a mandate to declare Friday that it was breaking away from Spain.
Following this declaration, Madrid sacked Catalan's leaders and took control of the semi-autonomous region under a previously unused "nuclear option" in the constitution.
Spanish Prime Minister Mariano Rajoy called for snap elections for December 21 to replace the Catalan parliament in a bid to stop the secessionist drive.