(Reuters) – Marvel's red-white-and-blue superhero soared to a second straight box office win in "Captain America: The Winter Soldier," beating out new animated movie "Rio 2," the story of a family of Brazilian birds on a trip to the Amazon.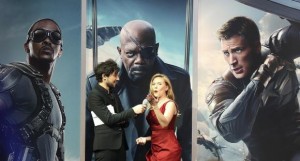 Walt Disney Co's "Captain America," which set an April ticket sales record when it opened a week ago, pulled in another $41.4 million from Friday to Sunday at U.S. and Canadian theaters.
The "Rio" sequel from 20th Century Fox debuted with $39 million in ticket sales, according to estimates from tracking firm Rentrak.
Low-budget horror flick "Oculus," a new film from "Paranormal Activity" producer Jason Blum, finished in third place, collecting $12 million.
Ahead of the weekend, box office forecasters had predicted "Captain America" and "Rio" would battle in a close race, with each taking in $40 million-plus.
"Rio 2" is a sequel to a 2011 film about a vibrantly colored family of rare macaw birds in Brazil. Jesse Eisenberg and Anne Hathaway provide voices for the avian parents who take their family to the Amazon in search of a possible colony of their critically endangered brothers and sisters.
Global sales for the film, which cost $103 million to make, reached $164 million through Sunday, according to Fox.
"Our target was to equal the first one, and that's what we did," said Chris Aronson, president of domestic distribution for 20th Century Fox, a unit of 21st Century Fox, referring to "Rio," which took in $39.2 million on its opening weekend.
Aronson said the film was positioned well going forward as well, with spring break and school holidays in the coming weeks.
"There's not another animated film (opening) for nine weeks, so it gives us a nice long runway," he said, adding that exits polls for both parents and children were strong, and that the film was playing better than expected with African-American and Hispanic audiences.
"Captain America," which stars Chris Evans as a scrawny World War Two reject given super powers from an experimental serum, is the latest superhero hit from Disney's Marvel Studios.
The film has earned a total of $476 million since it started rolling out internationally on March 26, validating the strategy of distributor Disney to ramp up its pipeline of films featuring Marvel Comics super heroes.
Since Disney bought Marvel for $4 billion in 2009, Marvel characters have starred in some of Hollywood's biggest hits. "Iron Man 3" was last year's second-highest grossing film with domestic sales of $409 million, while 2012's "Marvel's The Avengers" was the third-biggest film in Hollywood history, with $623.4 million in domestic sales and $1.5 billion worldwide.
"Oculus," distributed by Relativity Media, stars British actress Karen Gillan as a young woman who is convinced an ornate mirror in her home is haunted. Like Blum's other horror hits, it cost less than $5 million to make. Relativity paid $2.5 million for rights to distribute the film in the United States and Canada.
Football drama "Draft Day" earned the No. 4 slot, grossing $9.75 million. The movie stars Kevin Costner as fictional Cleveland Browns general manager Sonny Weaver Jr., who races the clock to maneuver for the best players while dealing with upheaval in his personal life. Several scenes were filmed during last year's real-life NFL draft.
Rounding out the top five, the dystopian action film "Divergent" pulled in $7.5 million. Its worldwide grosses have reached $175 million.
Lions Gate Entertainment Corp released "Draft Day" and "Divergent."