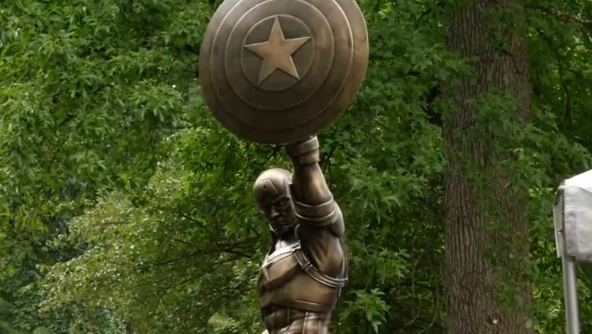 NEW YORK, United States (Reuters) — A bronze, 1-ton, 13-foot-tall Captain America statue was on display in a dedication ceremony in a New York City park on Wednesday (August 10).
"I think that it's absolutely amazing and Captain America means a lot to me because I'm trans and I think that Captain America is trans because he's like this weak little sickly kid and he gets like this shot that turns him into Superman, he just wants to be taken seriously and that means the world to me. He's my inspiration," Samwell Winkelman said, a Captain America fan.
"I think it's a good statue and what it represents. I wish I could take that home but I can't," Nicholas Correa said.
Marvel's debut of the Captain America figure in Brooklyn's Prospect Park celebrates the character's 75th anniversary.
The words "I'm just a kid from Brooklyn" and "Hometown Pride" are stamped on the statue's base.
The story of Captain America is well covered in comic book lore: a scrawny, bullied orphan named Steve Rogers is chosen for a top secret government project during World War II in which he becomes a test subject for a super serum.
The serum transforms him into a strong and able soldier named Captain America, and he leads the U.S. Army in its fight against the Nazis.
The latest Captain America film, "Captain America: Civil War," released in U.S. theaters on May 6, holds Marvel's band of Avengers accountable for the mass destruction caused by their efforts to save the planet. Last year's "Avengers: Age of Ultron" ended with an entire town being lifted into the air.
In "Civil War," Chris Evans' Captain America fights for superheroes to govern themselves and goes head to head with his former ally, Robert Downey Jr.'s Iron Man, who wants the heroes to be governed by the United Nations.
"Captain America: Civil War" has earned more than $1.1 billion (USD) worldwide.
The statue had its original unveiling at San Diego Comic-Con in July. The installation will be in Prospect Park until August 23, then will move to the plaza outside Barclays Center through September and make its way around Brooklyn to Sunset Park from October to the end of the year.