By Caesar Vallejos
OPEN FOR BUSINESS, Eagle News Service
Foreign and local tourists can now easily "come again" to Camiguin with Skyjet Airlines's first-ever direct flight to the island in the coast of Southern Philippines whose volcanic origins and eruptions got its brand as the "island born of fire."
From its inaugural flight last May 6, Skyjet flies to Camiguin daily (except Tuesdays and Wednesdays).  "Right now, we wanted to do a daily flight but we are hoping that we could increase it by the next peak season," Skyjet President Dino Chua said.
"This is more than a year in the making," he said.  Since the time the company brought Miss Universe candidates in the island, "we cannot stop thinking of operating here to bring more tourists to see its beauty. We saw the real potential of this wonderful island," Chua stressed.
Before Skyjet's direct flight, tourists from Manila will have to stop over for their connecting flights either via Cagayan de Oro or Cebu.
"Before you reach Camiguin, you have already lost the whole day. You'd rather spend your time on the beach rather than staying at the airport, or stuck in traffic, or ride a ferry," Chua said.
With Skyjet, travelling from Manila to Camiguin will only take an hour.
Chua plans to replicate Skyjet's strategy in Coron, Palawan. "We started with every other day flight and then once a day flight, and now, we are doing four flights a day in Coron, Palawan.  That's our most number of flights. Our capacity is 86 so we are bringing almost 500 tourists every day," he said.
1M tourists
Chua estimated that there were around 700,000 tourists who visited Camiguin last year. "We could hit 1 million visitors because of the direct flights," he said.
"If foreign tourists will spend one whole day doing nothing – stuck in the airport, stuck in the traffic, so they would rather choose other destinations," Chua surmised.  For local tourists, he said that they may choose Boracay still, even if they have been seen it, because it is easier to travel there.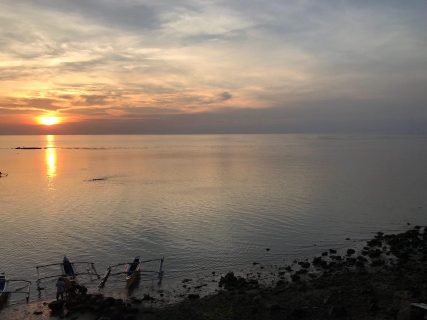 "Once they know that we now have direct flights, they will chose Camiguin because they want to see new destinations," he added.
"We are here in Camiguin not only to make business, but also to promote tourism, to make it sustainable, and to support the local people. They don't have to leave their own province or the island to look for work," the Skyjet President said.
Chua emphasized that once you develop tourism, everybody will benefit from it including  additional jobs and more establishments.
"If we can copy the tourism boost of Boracay with the other islands, it will help definitely help our country. That is our hope that the tourism sector is the one that will drive the economy of the Philippines," said Chua.
According to him, while our tourism products and our beaches are the best in the world, foreign tourists go to other destinations because of their excellent network infrastructure that includes good airports and roads.
"The Build Build Build program is very timely. Camiguin Airport is a very good example of the BBB program. It is very nice, enough to welcome the tourists," Chua said.
A game-changing leisure airline
Skyjet is positioned as the number one leisure airline in the Philippines.
"When you say leisure airline, you only cater to dream destinations and high-density tourist destinations," Chua emphasized.
"When we launched our flight direct to Batanes, it opened a lot of opportunities. It became a bucket list. It became one of the dream destinations of local and foreign tourists. Up to now, Batanes is one of our best destinations.
And we also did the first direct flight to Siargao island.  At first, a lot of foreign tourists are experiencing the hassle because you have to stop over somewhere before you reach the island of Siargao," Chua recalled.
Five years ago, "we were the only airline that flies to Batanes but now PAL, Cebu Pac and other airlines are all there. People see the difference of Skyjet. We're not a budget airline, not a low-cost carrier," Chua emphasized.
"A leisure airline gives more to the passengers," Chua explained.
In booking tickets, "you have to pay for your seats; if you want to choose a seat, you have to pay extra; if you want to bring more luggage, you have to pay extra. But here in Skyjet, it's all in. If you buy your tickets, it comes with a 10K baggage allowance, chose seats for free, a bigger leg room and we're faster, were using jets.  Skyjet is the only plane that could land in short runways," Chua said.
Like Bali Hai
Patrick Paul Tan, Chief Executive Officer of Skyjet Airlines describes Camiguin like Bali Hai, a mythical island in Rodgers and Hammerstein's Broadway musical and 1958 film South Pacific, where dreams come true.
"By coincidence, Camiguin looks very much like it," Tan described. "While Camiguin is known by everyone and heard about it, few people have actually been here, and as far as attractions in one island, it has some of the widest diversity, most number of attractions in the same one location because the island is small, with just 60 kilometers (circumferential road) that can take just an hour-drive around."
Camiguin has cold springs, hot springs, and waterfalls on the mountainside and then on the other side are the nice beaches, marine sanctuaries and diving spots.
"In a lot of other destinations, you'll have to travel far to get from one to another," Tan said.
"The local highways are four lanes, very clean, there are no beggars on the island with zero crime rate. And you will also notice that Camiguin has better mobile coverage, better than some areas in Metro Manila," Tan emphasized.
"Camiguin is one of the best upcoming destinations in the Philippines now.  There's something for everyone on the island. Camiguin is on the edge of going into something big and Skyjet has a history of coming in and making that extra push.  We did that for Batanes, we did that for Siargao, we did that for Coron, Busuanga and Camiguin is the next big destination," Tan said.
"We plan for five flights a week, about 450 passengers during peak season and 300 guests during off season and we think that the island is ready for that," Tan mentioned.
Most anticipated flight
Department of Tourism Regional Director Marie Elaine Unchuan said, "this is the most anticipated flight and the provincial government has been wooing the airline to really have a direct flight from Manila."
She said that Camiguin is now the top tourist destination in Region X and with Skyjet's direct flights, "we are expecting a surge.  This will really add to tourist arrivals because a lot of people skip Camiguin because of the difficulty in coming here."
Unchuan also expects a steady increase in Camiguin arrivals with two new passenger ferries that will be coming in: Fastcat and Shogun.
Sustainable tourism in Camiguin
"We've seen what happened to Boracay's over development and we really learned from it.  But way before Boracay was closed, Camiguin has really taken the initiatives to push sustainability on the island, Unchuan said.
Five years ago, Camiguin has already banned the use of single use plastics. "Even on the ferries, we tell them that throwing trash over board is emphasized and we apprehend people for their violations," she stressed.
"The people in Camiguin have already have in their mind that they have to protect the island. They have a sense of ownership," she stressed.
"Now, we are implementing the easement that was did in Boracay. Even before Boracay, the local government here has trailblazed the implementation of the sewage so they do not give business permits any more to non-compliant establishments. The primary tourism establishments must be compliant with all the laws, otherwise they cannot operate," she added.
Skyjet CEO also added that "sustainable tourism is important for the long term viability and growth of tourism in any destination so we try to help in educating our guests by cautioning against littering and to respect the rules of the wildlife preserves and the marine conservation areas."
More rooms
There are over 900 rooms in Camiguin but the figure includes homestay and boutique hotels.
"We now have several high-end hotels but Limketkai is building a 200-room hotel for high tourists that will hopefully open later this year," she announced.
Crimson Hotel is coming in with investments along with several investors that have either bought properties or exploring the island for investment opportunities.
However, Unchuan mentioned that in spite of these developments, the local government is studying the carrying capacity of the island so that "we do not over fill it with tourists because the effect is not only on the number of people but it will impact the community in terms of the competition for food and water."
"Although Camiguin is abundant, we don't want to tax the resources too much. And we want to keep Camiguin as picturesque and sustainable as possible," she said.
"Camiguin is an eco-tourism paradise. It's unique because it is a volcanic island, with about 12 volcanoes and counting," the DOT Regional Director said.
Must-sees include the Mantigue Island, White Island and Mt. Hibok-Hibok which is declared as an ASEAN Heritage Park.
From the traditional chicken surol, tourists can also enjoy Spanish, Italian and Vietnamese cuisines made by foreigners who made Camiguin their home.
"It's really the whole experience, very diverse.  Aside from its kulinaria, visitors can experience the culture of Camiguinons and the taste lanzones.  When you taste our Lanzones, you'll know that you're in Camiguin because you have the sweetest Lanzones in the Philippines, if not the world.
Next destination
According to Skyjet President Dino Chia, Skyjet's next target is San Vicente Airport in Palawan.
"There's a lot of new destinations in Palawan like Port Barton, but it's kind of far from the Puerto Princesa airport. If you go to El Nido or Port Barton, you have to travel by land for five to six hours."
With Skyjet's direct flight to San Vicente airport, tourists can just take a few minutes to reach Port Barton.
Skyjet's vision is to connect the island of the Philippines to the world.  Similar to Skyjet's game-changing direct flight to Camiguin, visitors can easily "come again".