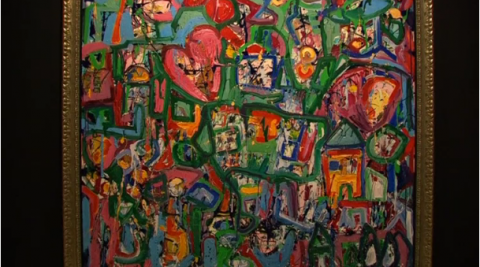 LONDON, United Kingdom (Reuters) — British artist Sacha Jafri launched a four-year world tour of his retrospective 'Universal Consciousness' in London on Wednesday (September 27).
The artist aims to raise £10m ($13.44 million) from the sale of his auctions over the duration of this tour.
Jafri said he wants to raise money for children's charity, "specifically for refugees."
The tour will stop at Los Angeles, New York, Moscow, Hong Kong, Sydney, Abu Dhabi, Beijing and Istanbul.
At the opening event at Saatchi Gallery, Jafri told Reuters he wants to "slow people down" through his works.
Jafri's first painting was bought by Madonna. His clients include Barack Obama, Bill Gates, George Clooney and Leonardo DiCaprio.
Despite his high-profile status, the artist tries to distance himself from the idea of stardom, saying "celebrity means nothing" and that he doesn't sell his art to everyone.
"It has to be someone who who's going to love them, nurture them, not buy them for investment or hide them in a bloody safe somewhere."
The retrospective, spanning 18 years of his work, includes 40 large-scale works painted between 1997 and 2015, showcasing his 'magical realism' style.
The tour will last four years and will be around 28 countries.