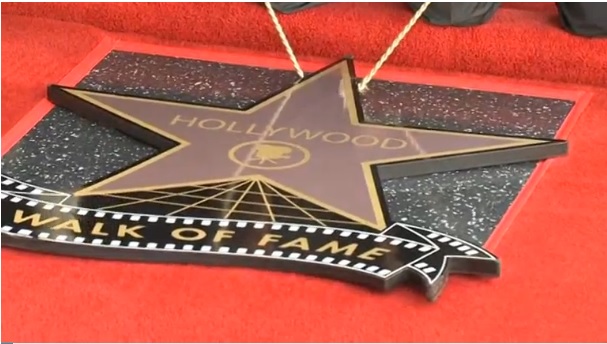 British actor Hugh Laurie received the 2593rd star on the Hollywood Walk of Fame on Tuesday (October 25).
Already well-known in the United Kingdom, Laurie has made a name for himself in U.S. television for shows including 'House' and 'Veep.'
Speaking on the podium, the star said, "I don't know if you Yanks fully understand what this means to someone who was born and raised 5000 miles away from here who for the first 30 years of his life only knew anything of this country because of the records I listened to and the films that I saw and the television shows that I watched and that's all I knew. The reach of American entertainment, the power of American entertainment is just awesome."
He added "I don't think there's an actor alive that hasn't felt at some point – some of them quite regularly – that what they do and the business that they're in is at some level somewhat silly. It can feel silly, it can feel ephemeral and candy floss and of no consequence but there are other times when you are confronted with a realization that what an honor it is and a privelege it is to be a part of something that touches so many lives around the world and even shapes lives. You may say that's a bold claim but let me say this – I have lost count of the number of times the number of young people that I've met who are either studying or practising medicine because they saw 'House'. There are physicians today saving lives, delivering babies and lancing boils because their imagination was ignited by stories and ideas and possibilities that they might now have considered and they see this and they are touched by it and that's an incredible honor."
Laurie was joined at the ceremony by his ex-comedy partner Stephen Fry, who pointed out that despite his television success, Laurie has not yet won an Emmy.
"It is the tradition in this marvelous town to reward stars by bringing them down to earth, so far down to earth that now Hugh will spend eternity having chewing gum and dog poo trodden into him and very likely worse. The world was at its feet and now the world's feet are at him," Fry said.
(c) Copyright Thomson Reuters 2016