BRASILIA Tue Sep 16, 2014 8:10pm EDT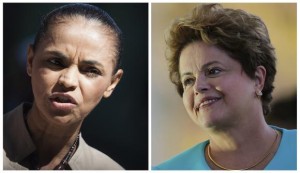 (Reuters) – President Dilma Rousseff has lost ground to her main challenger, Marina Silva, less than three weeks before Brazil's presidential election, which will likely be decided in a close second-round runoff, a poll showed on Tuesday.
The survey by the Ibope polling firm said support for Silva, a renowned environmentalist, has remained unchanged at 43 percent, but Rousseff has slipped two percentage points to 40 percent since the previous poll last week. The gap is within the margin of error of the poll and the two are considered in a statistical tie.
Rousseff has also lost two percentage points in a simulated first-round vote, while centrist candidate and market favorite Aecio Neves has gained four points and risen to 19 percent.
In the first round voting scheduled for Oct. 5, Rousseff would get 36 percent of the votes and Silva 30 percent, compared with 39 percent for Rousseff and 31 percent for Silva in the previous Ibope poll.
The Rousseff administration's approval rating has slipped to 37 percent from 38 percent last week.
The race is being closely watched by investors who hope a Silva victory will lead to a more market friendly government and end the interventionist policies of the ruling Workers' Party that they blame for undermining business confidence and growth in the world's seventh-largest economy.
Brazil's benchmark Bovespa stock index rose as much as 3.96 percent in Tuesday trading and closed 2 percent higher on speculation that the Ibope poll would show gains for Silva.
The new Ibope poll surveyed 3,010 respondents nationwide between Sept 11-16 and has a margin of error of plus or minus two percentage points. It was commissioned by media conglomerate Globo Comunicações and was broadcast on TV Globo nightly news program.
(Reporting by Anthony Boadle; Editing by Ken Wills)