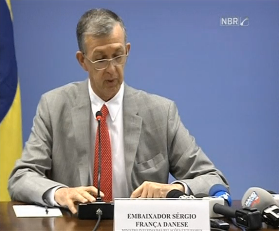 THE Brazilian government on Tuesday (April 28) said it received with "profound consternation" the news that a Brazilian citizen had been executed in Indonesia along with eight other mostly international prisoners earlier in the day.
The government also said this event compounded with the execution by firing squad of the Brazilian national Rodrigo Gularte earlier this year combined to create a "serious issue" as far as relations between Brazil and the southeast Asian country.
"The Brazilian government took with profound consternation the news of the execution, inIndonesia, of the Brazilian citizen, Rodrigo Muxfeldt Gularte, which happened today, April 28, 2015, for the crime of drug trafficking. In a letter sent to her Indonesian counterpart, PresidentDilma Rousseff had reiterated her call for the death penalty sentence to be commuted, keeping in mind the psychiatric condition of the Brazilian, (which was) worsened by the suffering that the situation he was in caused over the last several years. Unfortunately, the Indonesian authorities were not sensitive to this fundamentally humanitarian appeal," the General Secretary of theBrazilian Foreign Ministry, Sergio Franca Danese, said while reading an official government statement during a news conference from the Brazilian capital of Brasilia.
Both current President Dilma Rousseff and her predecessor, President Luiz Inacio Lula da Silva, had appealed to the Indonesian government to stay Gularte's execution.
The prisoner had been diagnosed with schizophrenia and the Brazilian government called for his execution to be commuted and for the prisoner to be moved to a hospital for treatment.
Gularte, who had been imprisoned in Indonesia for 10 years before the execution by firing squad was carried out on Tuesday, became the second Brazilian to be executed in the country this year.
In January, another Brazilian man, Marco Archer, was also executed by firing squad on drug trafficking charges.
Reading the government statement, Franca Danese said the executions complicated relations with Indonesia.
"The execution of the second Brazilian citizen in Indonesia, following the shooting (by firing squad) of Marco Archer Cardoso Moreira on January 18 of this year, constitutes a serious issue in the realm of relations between the two countries and strengthens Brazil's willingness to move forward, within international human rights organizations, with efforts to abolish capital punishment. The Brazilian government conveys its solidarity and its deepest sympathies toRodrigo Muxfeldt Gularte's family," he said.
Eight other prisoners from several other countries were also executed in Indonesia on drug charges the same day.
(Reuters)