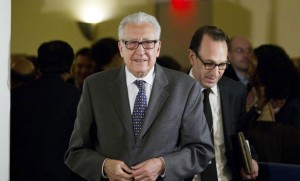 The Joint Special Representative of the United Nations and the League of Arab States for Syria Lakhdar Brahimi urged both sides taking part in the Geneva 2 discussions to "speed up".
"The beginning of this week is as laborious as it was the first week. We are not making much progress," Brahimi told reporters at a press conference in Geneva, Tuesday. "One of your colleagues said I had tonnes of patience, and I confirm that I do, but the Syrian people don't have that much patience and we all owe it to the Syrian people to move a little bit faster than we are doing," he said.
The Geneva Communique includes proposals for a transitional government and democratic elections. The opposition has insisted on addressing the transitional government issue – which it believes would mean President Bashar al-Assad stepping down. But the government has been stressing that the first step is to discuss "terrorism".
Speaking on the second day of the second round of the negotiations, Brahimi said: "I think of the entire world and everybody is looking at them, most of all the people of Syria. I think we know a little of what the people of Syria are thinking, the people of Syria are saying "please get something going that will stop this nightmare and this injustice that is inflicted on the Syrian people. They have to listen at some stage and the earlier the better."
(With a report from the United Nations in Geneva)