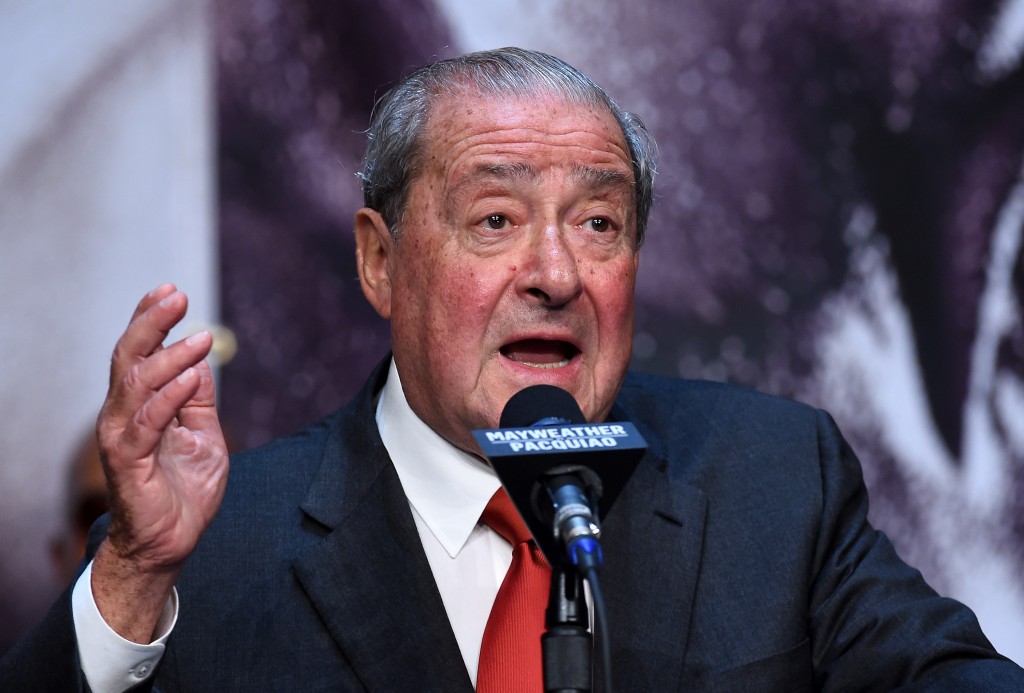 by Daniel HICKS
HONG KONG , China (AFP) — Legendary boxing promoter Bob Arum has slammed as "total madness" a proposal to allow professional boxers to fight against amateurs in the Rio Olympics.
The 84-year-old American, who has arranged fights for ring greats from Muhammad Ali to Manny Pacquiao in a career spanning more than 50 years, believes boxers could be seriously hurt if the plan by the sport's governing body, the International Boxing Association (AIBA), goes ahead.
"To have guys who are experienced professional fighters against these amateurs, you're looking at serious, serious injuries. It's total madness," Arum told AFP in Hong Kong.
"This is not like basketball where all you do is lose, a guy dunks over you, or baseball or other sports like that. This is a hard sport and guys can get hurt.
"Imagine putting in a 147lb kid novice from Nigeria, who could be a great prospect, with Manny Pacquiao? It's ludicrous. It's silly."
Arum was in Hong Kong to preside over local unbeaten Rex 'The Wonder Kid' Tso's latest fight, where he took his record to 19-0 by stopping experienced Korean super flyweight Young Gil-Bae in four rounds to pave the way for a potential world title fight early next year.
AIBA first floated the radical proposal to allow professionals into the Rio Olympics a few months ago and will put it to the vote at its congress in Lausanne early next month — just two months before the Games.
"To start it a couple of months before an Olympiad, are they crazy?" said Arum. "What about these kids who have trained for years for their Olympic chance?"
Arum clearly sees AIBA's move as an attempt to grab a slice of the riches on offer in the lucrative professional game, and warned AIBA they would be better off serving the amateur side of the combat sport.
Not realistic
"The AIBA people have this idea that, like FIFA in football, they can take over the whole sport, which they can't," declared Arum. "And they shouldn't.
"They are trying to take over boxing. If they want to take some aspects of professional boxing such as scoring systems and incorporate it into amateur boxing then that's OK. But they should confine themselves to amateurs.
"They realise that the big money is in professional boxing but they are going to encounter tremendous difficulty."
One boxer on the undercard of the Tso fight was London 2012 Olympic gold medallist Ryota Murata, who took his unbeaten record to 10 straight wins with a fourth-round knockout of Brazil's Felipe Santos Pedroso.
The Japanese middleweight told AFP, however, he would be attracted by the prospect of stepping back into an Olympic ring against amateurs — but only in front of his home fans.
"That's something I'd like to consider for Tokyo 2020," said Murata, who admitted that most boxers in the professional ranks did not share his ambition.
"Not too many boxers are showing interest because it is not realistic, there are different rules and regulations," Murata said, although he added that he didn't agree that fighters may get hurt.
"I don't think it's dangerous," said Murata. "There are a lot of good fighters in the amateurs and you're only fighting three rounds."
Arum understood Murata's viewpoint, but was sticking to his guns. "These guys are in a position where, of course, they say they would fight for their country," said Arum.
"But will they fight for nothing? Are you crazy? They're professionals.
"But that's not the point. The point is that people can and will get hurt."
dh/th
© 1994-2016 Agence France-Presse