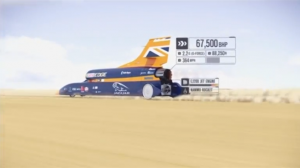 The Bloodhound Supersonic Car, described by its designers as the world's fastest and most advanced racing car, was unveiled in London on Thursday (September 24).
The vehicle is aiming to be the world's first 1,000mph (1,609 kph) car when it attempts to set a new world record.
The car's British designers said they are pushing the limits of science, with the Bloodhound a catalyst for cutting-edge research in fields such as aerodynamics and sustainable high-tech engineering.
At an event in London's Canary Wharf, the completed Bloodhound vehicle made its world debut following eight years of research, design and manufacturing, involving more than 350 companies and universities.
Bloodhound SSC (supersonic car) will be driven by Wing Commander Andy Green who set the current record of 763mph (1,228kph) in 1997 at the wheel of ThrustSSC, a British jet-propelled car.
During the 1,000mph record attempt, Green will travel faster than a bullet fired from a handgun thanks to three Nammo hybrid rockets combined with a Rolls-Royce EJ200 jet engine from a Eurofighter-Typhoon to produce about 135,000 thrust horsepower.
According to the designers this is more than seven times the power output of all the cars in Formula 1 combined, making Bloodhound the worlds' most powerful land vehicle.
The team plans to next year travel to the Hakskeen Pan in Northern Cape, South Africa, to put the Bloodhound through its paces by attempting to set a new record of 800mph (1,287kph)
This will allow the engineers and scientists involved to assess the car's performance ahead of the planned 1,000mph attempt.