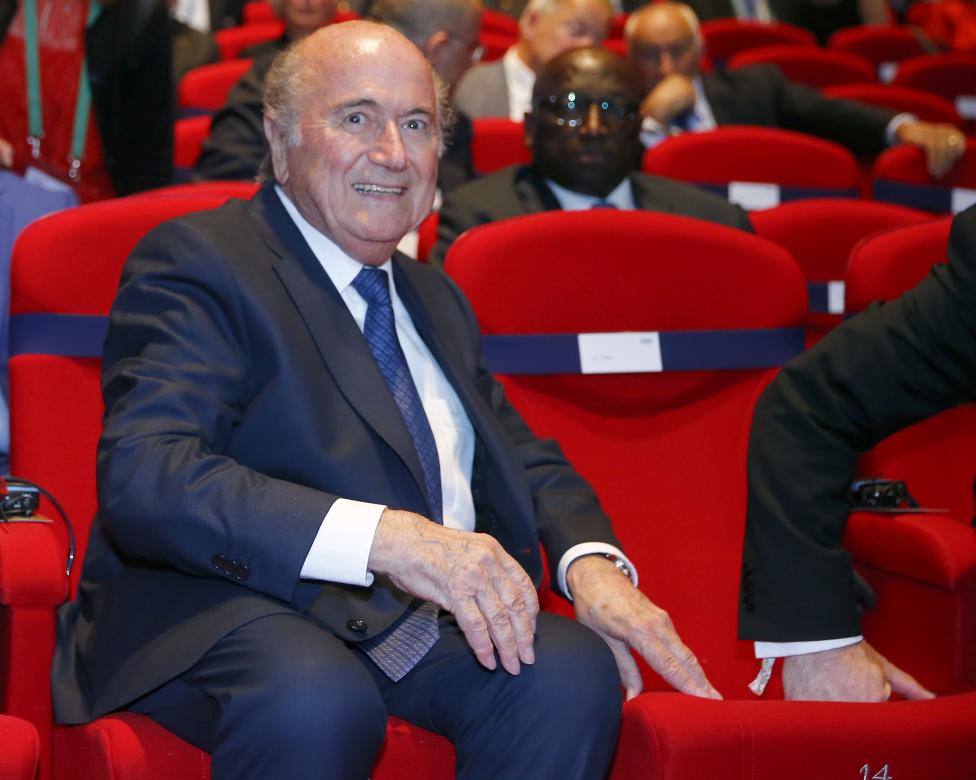 (Reuters) The corruption charges engulfing world soccer's governing body have heaped shame and humiliation on the game, FIFA President Sepp Blatter said on Thursday, although he flatly rejected calls to resign over the widening scandal.
With FIFA facing the worst crisis in its 111-year history, Michel Platini, who heads Europe's soccer confederation UEFA, said he had told Blatter to go "with tears in my eyes", but the 79-year-old had refused.
"I said, 'I'm asking you to leave, FIFA's image is terrible.' He said that he couldn't leave all of a sudden," Platini, a former French international, told reporters.
In a bullish speech opening a FIFA Congress in Zurich, Blatter said the turbulence of the last two days, which included the arrest of leading soccer officials at their luxury Swiss hotel, had brought "shame and humiliation" to world soccer.
Making his first public appearance since Wednesday's dramatic events, which were triggered by a U.S.-led investigation into allegations of rampant bribe-taking, Blatter said there was no room "for corruption of any kind".
"The events of (Wednesday) have cast a long shadow over football and this Congress," said Blatter, who is standing for a fifth mandate as FIFA president in Friday's election, in which Prince Ali bin Al Hussein of Jordan is his only challenger.
Ignoring calls to step down, Blatter said: "I know many people hold me ultimately responsible … (but) I cannot monitor everyone all the time. If people want to do wrong, they will also try to hide it."
Platini said 45 or 46 of UEFA's 53 member associations would vote for Prince Ali. But it appeared that Blatter still commanded enough of FIFA's 209 national associations to secure victory.
SPONSOR CONCERNS
Adding to the pressure, there were growing concerns about the allegations from major sponsors, many of whom have solidly backed FIFA despite nearly 20 years of bribery and corruption allegations.
German sportswear company Adidas said FIFA should do more to establish transparent compliance standards. Anheuser-Busch InBev, whose Budweiser brand is a sponsor of the 2018 World Cup, said it was closely monitoring developments.
Credit card company Visa Inc urged immediate reforms.
In a strongly worded statement, Visa said: "Our sponsorship has always focused on supporting the teams, enabling a great fan experience, and inspiring communities to come together and celebrate the spirit of competition and personal achievement … it is important that FIFA makes changes now so that the focus remain on these going forward. Should FIFA fail to do so, we have informed them that we will reassess our sponsorship".
Coca-Cola Co, another sponsor, said the charges had "tarnished the mission and ideals of the FIFA World Cup and we have repeatedly expressed our concerns about these serious allegations".