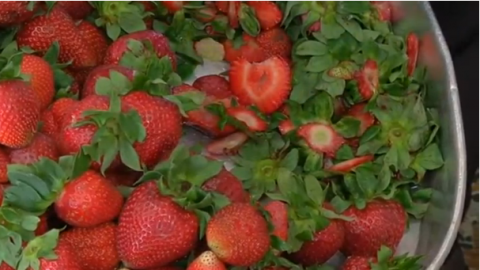 BEIRUT, Lebanon (Reuters) — Mitri Hanna Moussa's ice cream shop has a barely recognizable sign outside the store, but people queue there every weekend for a taste of what many in Beirut consider the best ice cream in the city.
The shop has been serving ice cream for the past seven decades. Moussa took over the business in 2012 when his father passed away.
The secret to success is love and fresh ingredients, he said.
"It is natural and made with love, made with passion and love as they say. It is a passion for work not a passion for making money. As I said, if I don't have the needed ingredients, I stop, I don't just do it. That is the difference between me and others," Moussa said in the small shop where the ice cream has been made and served since 1949.
Moussa and his mother Samira run the place with one worker who comes in sometimes to help. Moussa's wife helps out during busy times.
The shop is still the same as when it opened with Mitri learning the recipes from his father.
Apart from ice cream, he sometimes makes Lebanese sweets such as Maamoul — date or pistachio stuffed cookies or Nammoura and Sfouf which are corn flour-based cakes with pine nuts and spices.
Everything is made in the shop in front of customers.
"There is nothing hidden here," Mitri said. The ice cream flavours include chocolate, pistachio, rose water and seasonal fruit flavours and combinations like chocolate and orange.
The shop, originally called As-Salam and known as "Hanna Mitri" after Mitri's late father, has gained worldwide recognition due to coverage by social media and features in international press.
For now, there are no plans to open a second shop but the owners might change the location if the building it is located in is demolished. But there shop will always be in the Ashrafieh district of Beirut.
"I came especially to this shop to try to the ice cream. It is amazing, I am not usually an ice cream person but I love this. The fruit flavors taste like real fruit, it is not rich, it doesn't make you sick," said customer Maha Damouni.
Mitri said he would one day pass on the business secrets to his children if they wanted to continue with the profession.