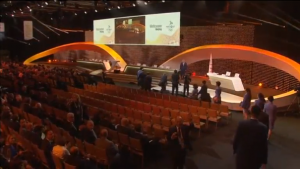 JULY 31 (Reuters) — Beijing 2022 Winter Olympics bid officials highlighted the nation's ability to deliver on promises as the Chinese capital, the frontrunner in the race, made its final pitch to the International Olympic Committee in Kuala Lumpur, Malaysia on Friday (July 31).
Beijing, seeking to become the first city to be awarded both summer and winter Olympics, is up against the Kazakh city of Almaty, who had presented their plans to the 85 voting IOC members earlier on Friday.
The IOC will elect the winner later on Friday.
"We will honor all the commitments," said Chinese President Xi Jinping in a video message at the start of Beijing's presentation. "Let me assure you, if you choose Beijing the Chinese people will stage excellent and extraordinary Games."
China is banking on its extensive Olympic experience from hosting the 2008 summer Games, while also using many of those venues in their winter Games concept.
Among them is the iconic Bird's Nest stadium and the Water Cube as well as media and broadcasting centers within Beijing's Olympic park.
The plan also includes the mountain zones of Yanqing and Zhangjiakou, 90km and 160km away from Beijing respectively though the IOC has highlighted the minimal annual snowfall and the need to rely almost entirely on artificial snow.
China's Sports Minister Liu Peng played down these concerns, saying ski resorts have been operating in Zhangjiakou for two decades.
"Beijing 2022 will build on our existing snow-making capabilities to supplement snowfall… with minimal environmental impact," he said. "We have a strong experience in organizing winter Games."
In a largely pragmatic presentation that included former NBA player Yao Ming but had few surprises, Beijing bid officials repeatedly stressed they were a safe pair of hands for the IOC.
While Kazakhstan presented a compact bid and urged the IOC to be bold in their decision, Beijing officials said picking their plan would ensure a successful Olympics while also tapping into a market of 300 million Chinese with a growing appetite for winter sports.
"We pledge our full guarantees in the financial, legal, security, organizational and operational areas," Chinese Vice Premier and bid chief Liu Yandong said.