By Brian Winter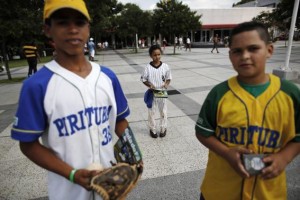 SAO PAULO Thu Feb 13, 2014 4:00pm EST
(Reuters) – Brazil is and always will be a soccer country, especially during a year in which it hosts the World Cup.
Nevertheless, the major U.S. sports leagues for football, baseball and basketball are seeing unprecedented growth here as Brazilians become wealthier, more worldly and even frustrated with the shortcomings of their own national pastime.
The newfound success of the U.S.' National Football League (NFL), Major League Baseball (MLB) and the National Basketball Association (NBA) here has been a surprise even to their own executives, although Rio de Janeiro's beaches have not been taken over by touch football just yet.
Baseball and football remain niche sports in Brazil, with even basic rules a mystery to most observers here. Basketball has a longer tradition here, but is still likely not even the second-most popular sport in the country. That is thought to be either volleyball or mixed-martial arts.
Yet each of the U.S. major sports leagues can point to important milestones in Brazil during the past two years.
The NBA became the first U.S. league to open a permanent office in Brazil, in 2012. The NFL saw its average TV audience in Brazil double in 2013.
MLB welcomed the big-league debut of its first Brazilian-born player in 2012 and at least two others are expected to make professional rosters this year.
"There has been an awakening of the Brazilian market and a lot of people are benefiting from it," said Chris Parsons, the NFL's senior vice president for international affairs.
He linked the rising interest to Brazil's economic boom in the last decade, which lifted some 35 million Brazilians out of poverty and into the middle class.
That fueled an explosion in air travel, especially to the United States. The number of visas issued by U.S. consulates in Brazil more than doubled between 2008 and 2012, to one million.
As a result, Parsons said U.S. sports have become an "aspirational" status symbol – an expression of newfound affluence, especially among the youth who set the stylistic tone in cultural capitals like São Paulo and Rio de Janeiro.
For example, Neymar, Brazil's biggest soccer star and a marketing icon for the rising middle class, wore a Michael Jordan baseball cap and a basketball jersey for Anderson Varejao, a Brazilian-born player for the NBA's Cleveland Cavaliers, in one of his first public appearances after signing with FC Barcelona last year.
"American sports are cool right now," said Arnon de Mello, the NBA's managing director for Brazil. "There has always been a synthesis of lifestyle, street culture, art and music in the NBA … (and) that carries a real appeal these days in Brazil."
SHOWMANSHIP IS KEY
Unlike other parts of Latin America, especially in the Caribbean basin, Brazil never experienced a strong U.S. military or commercial presence that brought American culture as well.
So while baseball is ubiquitous in Venezuela and Cuba, for example, it is still very difficult to find it played here.
Brazilians say they are especially drawn to the big-time feel of U.S. sports, which are usually played to full stadiums with TV-friendly attractions, such as fireworks and cheerleaders.
By contrast, Brazil's domestic soccer league suffers from poor attendance as violence in the stands and dilapidated stadiums chase many fans away. Pacaembu Stadium in Sao Paulo, where two of the city's teams play most of their games, does not even have a fully functional video screen.
"You watch American football and, man, it's a show. You don't watch only for the game. That is what is missing in Brazilian soccer," said Mauricio Araujo, president of the Ipanema Crabs, an amateur beach football team in Rio.
Only about 50 people attended last Saturday as the Crabs played their first game of 2014 against the Copacabana Pirates. But in a separate semi-professional league, where teams use helmets and pads and play on grass fields, has teams all over Brazil and attracts crowds of 5,000 people or more.
When it comes to basketball, the NBA wants to make sure it replicates the spectacle and showmanship enjoyed by U.S. audiences. For a pre-season game it staged between the Chicago Bulls and the Washington Wizards in Rio last October, the league made sure "every aspect of the game was the same."
That meant, for example, bringing in the same light show, dancer and team mascots that would be seen in, say, Chicago.
The game – the first ever staged in South America – played to a stadium at nearly 98 percent of capacity. That was the highest percentage of seats sold for a pre-season game anywhere last year, according to the NBA.
A LEG UP FROM JAPAN
Baseball, for its part, has been able to leverage a chapter of its history that is little-known outside Brazil.
Sao Paulo, Brazil's largest city, experienced a huge influx of Japanese immigration during the early 20th century. They brought baseball with them, although "Westerners" were generally excluded from playing, said Raylla Matusomori, a member of the Anhanguera Nikkey Club, which organizes games.
"For 60 years it was very restricted," she said. "So baseball stagnated."
Even that has been changing though.
Andre Rienzo, who grew up in a small city outside Sao Paulo, was introduced to the sport shortly after his parents divorced 20 years ago. His mother, suddenly charged with raising three unruly boys on her own, believed that the only way for Rienzo to gain discipline was through greater contact with the town's Japanese community – which meant playing baseball.
Rienzo began pitching, and became a star. He was discovered by a Cuban scout as a teenager, and made his major-league debut for the Chicago White Sox last year.
"It's a crazy story," Rienzo said. "But there are others like me." He said the sport is growing as more Brazilians are able to afford baseball gloves and other equipment.
Last month, MLB brought Rienzo and Paulo Orlando, a minor-league outfielder for the Kansas City Royals' system, to Sao Paulo for a series of promotional events. The league erected a small batting cage outside a community center, drawing a few dozen kids, some of them wearing pinstriped baseball jerseys.
The kids watched in awed silence as Orlando took a few huge swings at balls from a pitching machine. At the end, he picked up a baseball and bounced it, soccer-style, on his foot and knee – drawing the biggest applause of the day.
"I guess that's what people know best," he said afterward, laughing.
(Reporting by Brian Winter; Editing by Kieran Murray)